Make homemade Fudgesicles for a fun and refreshing summer treat. This Fudgesicle recipe is made with creamy chocolate pudding making the perfect combination of milky-rich chocolate. Kid-approved for taste and mom-approved for its' easy recipe. Come on in and I'll share the recipe with you…

Homemade Fudgesicle Recipe
I can attest that these Chocolate Fudgescicles are kid-approved.
After I made the fudgesicles; I set them in the freezer to set up for a few days. When I finally got around to taking pictures most of them were gone. My ten-year-old son looked at me and gave me that Randy Quaid in Christmas Vacation OK sign with a wink and a click of the cheek. Then he explained that the Fudgsicles were some of the best he'd ever had!
I was lucky to have four to take a photo of.
What is a Fudgesicle?
A fudgesicle is creamy frozen chocolate on a stick
Can you freeze pudding?
Although the texture of the pudding might change a bit, it can be frozen for up to three months
How long will Homemade Fudgesicles Last in the freezer?
Homemade fudgesicles will last up to three months in the freezer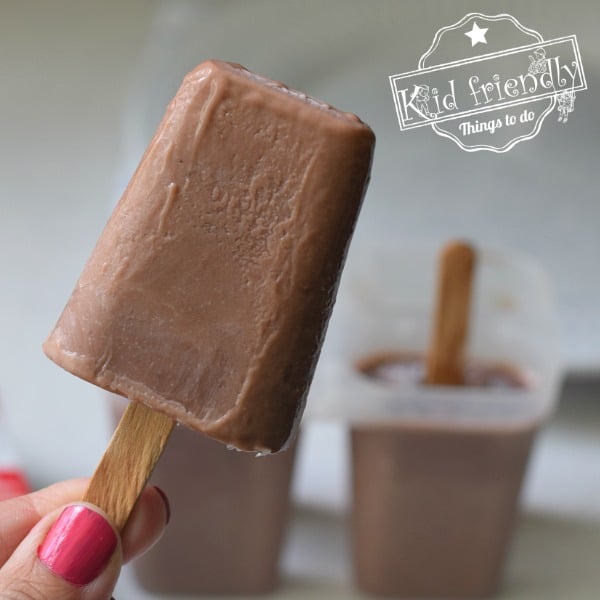 Here is the Printable Fudgsicle Recipe
Print
Chocolate Pudding Fudgesicle Recipe | Kid Friendly Things To Do
Chocolate Fudgesicles are an easy summer treat to make for the kids to enjoy
Author:
Prep Time:

5 minutes

Cook Time:

10 minutes

Total Time:

2+ hours

Yield:

1

dozen

1

x
1

(3.4 oz.) package of chocolate pudding mix

3 cups

of milk – 2% or whole

1/4 cup

of granulated sugar

1/2 cup

of heavy cream
Instructions
in a medium sized saucepan – bring the pudding mix, milk and sugar to a boil
cook, stirring for 2 minutes
remove from heat and fold in heavy cream
pour into popsicle molds, insert popsicle sticks, cover and freeze for at least 2 hours
when ready, run molds under hot water to loosen the grip of the mold then pull popsicles out to enjoy
Notes
Feel free to substitute any flavor pudding mix for a different flavored popsicle