It's snowing in our neck of the woods! Finally…It's snowing! I woke up to a beautiful, quiet, snow filled winter morning. I love mornings like this. The kids are still sleeping, I have my cup of coffee, and all I can see outside is the lantern across the street reflecting light on shiny snow. Maybe, making this DIY Snowman Soap Dispenser for the kids, sent out big snow thoughts up above. It's not the packing kind of snow, so sadly no snow families, today. But, even if we can't make a snowman in the yard, the kids are excited about the one sitting by our bathroom sink.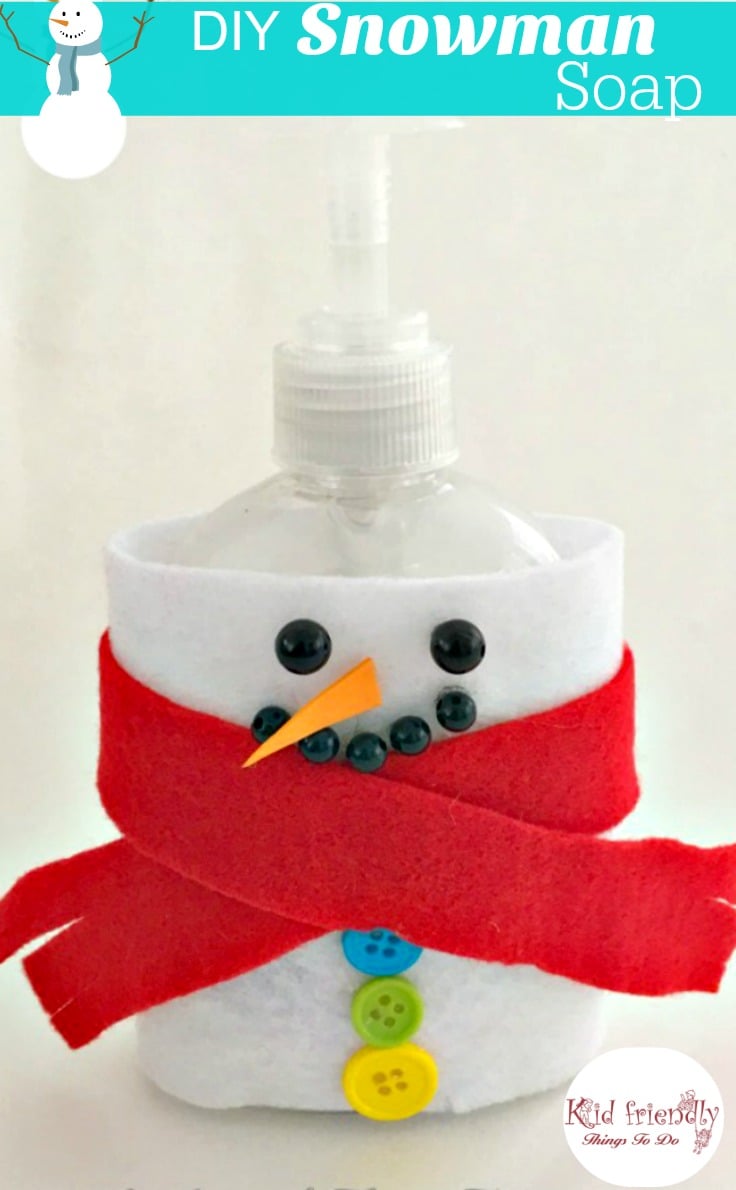 I just have to smile every time I walk into the bathroom. With this cutie to greet you, it's almost impossible to keep a straight face. Hey, maybe the boys will even want to wash their hands every once in a while. A mom can always dream!
Here's what you'll need to make one of your own:
White felt sheet (9×12)
Another Felt sheet (your color choice) for the scarf (9×12)
Buttons (3)
(2) Black pony beads 9mm
(2) Black pony beads 6mm
Orange felt or foam sheet
Warm glue gun and glue sticks
*You'll have plenty of felt left over from the bigger sheets, but I'd rather you had more than enough than not enough, plus you can make more with the extra! * If you can't find 2 sizes of black pony beads, then just go with one size. It will be cute either way.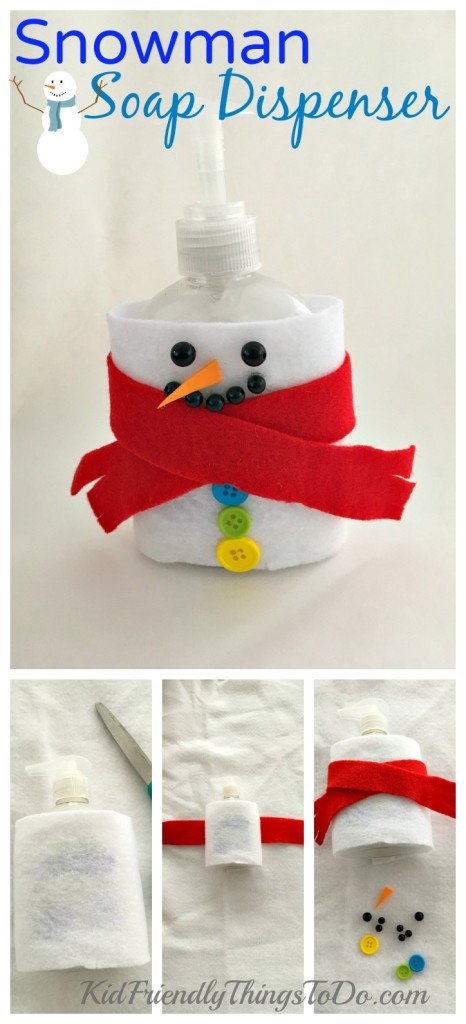 Now, on to the fun:
You'll have to use the size of your soap dispenser as your guide for measurements. Wrap the felt around your bottle to see how much length you will need. I overlapped mine in the back, so I cut my white felt into a 4″x9″ piece of white felt. Your size might be different, depending on the brand of soap and style
Once you have that figured out and cut, wrap the white felt around the bottle so it fits snug. Glue the overlapping pieces in the back
Scarf – Cut a long strip of colorful felt about 1 inch wide, the length again will vary – again, just make sure it will fit around your bottle – this time add in about 5 extra inches to your length!
Glue the scarf about 1 inch down from the top of the white felt, with the overlapping section crossing in the front of the snowman this time
Cut little strips into the ends of your scarf for detail
In the section above the scarf add 2 of the larger black beads for eyes, and 5 smaller beads for the mouth
Cut out a little carrot nose from your orange foam or felt and glue it on the face above the mouth
Glue 3 buttons under the scarf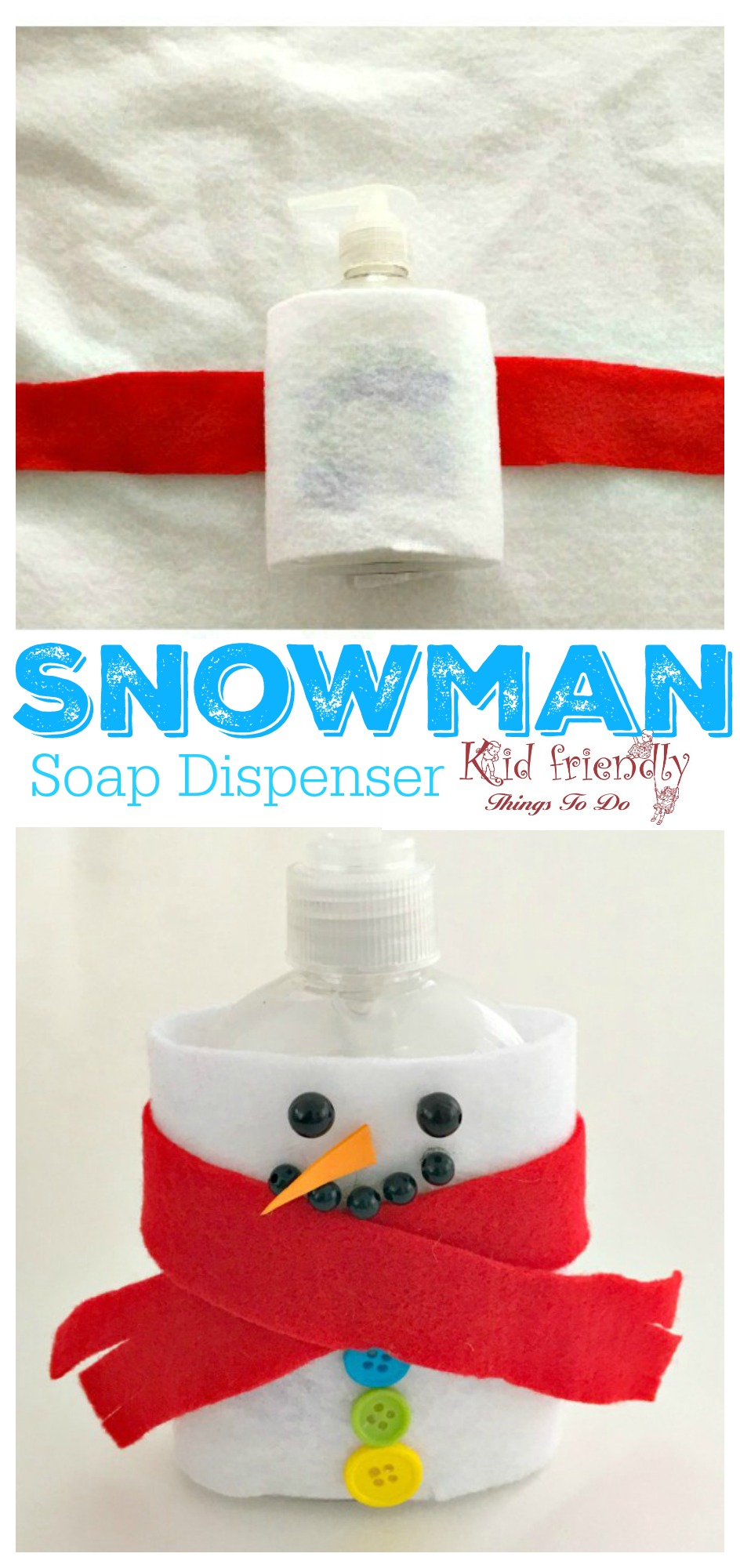 That's it! It's SNOW CUTE! I couldn't help myself! *I found the idea for this guy in an old Family Fun magazine. While the kids look for their own books, I peruse the craft books for fun ideas! Here's some equipment you might need or even want for this craft: (contains affiliate links) [box] [/box]
~Melissa – KidFriendlyThingsToDo.com