Making Chocolate Haunted Trees – Kid Friendly Things To Do .com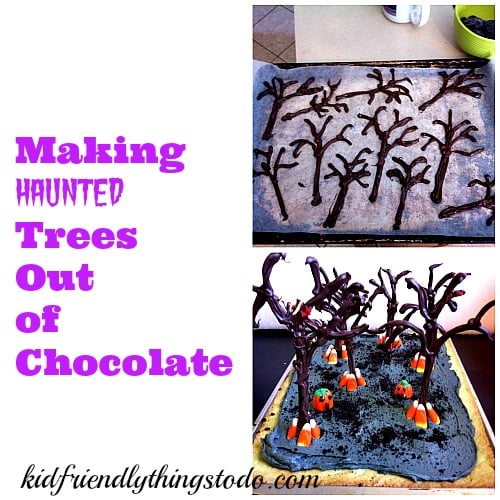 Posted by Melissa in Birthday/Holiday & Celebration Dish, Easy Family Recipes, Fun Food Crafts, Game Ideas, Halloween, Halloween, Halloween, Holiday Fun Foods | 0 comments
Don't let the chocolate trees intimidate you. They are so easy, yet so impressive to your guests! A great last minute Halloween treat!:
You'll Need:
Wilton Chocolate Melts – Dark Brown
A zip tight bag
Scissors
Wax Paper
Baking Sheet that will fit into the freezer!
Now:
Line the baking sheet with wax paper
Using a small microwave proof glass bowl, melt the chocolate melts – using the instruction on the bag
Scoop the warm chocolate into the bag, squeeze out the excess air, and zip tight
Snip a small hole in a bottom corner of the bag
Now, just start drawing trees! Start with the middle of the tree, and form it into a V at the top – keep adding branches!
To make the trees really spooky, add 2 little pieces of red licorice for bat eyes!
~ Melissa – Kid Friendly Things To Do .com