We can't wait to see Mr. Peabody & Sherman. It is bound to be a hit of a movie.  I have a sneaky suspicion that there might be some Mr. Peabody & Sherman birthday parties. If that's the case…you might be interested in a cute little gift bag like this one.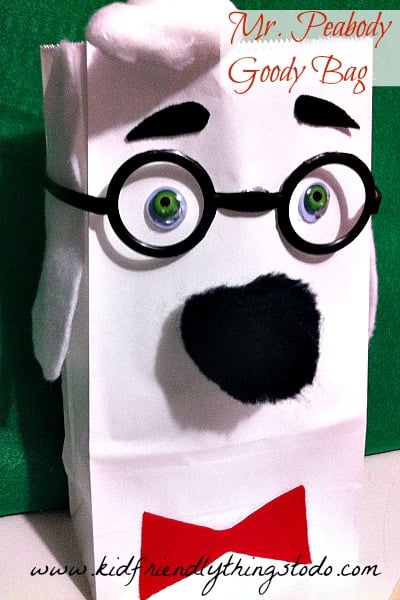 Mr. Peabody Craft and Gift Bag Idea
Are you looking for some fun character crafts to make with the kids? Try some of these fun ideas…
Here's what I did to make Mr. Peabody:
You'll Need:
White Paper Bags – 4x2x8
Round Plastic Glasses – I found these at Party City
Google Eyes with green centers – I found these at Michael's Craft Store
Black Pom-Pom for the nose
Red and Black felt sheets with adhesive backing
White Felt
Cotton Ball
 Now: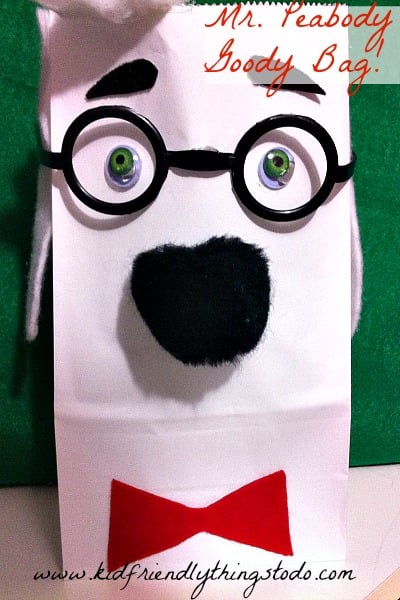 Use the black felt to cut out little eyebrows both about an inch in length
Cut a bow out of the red felt about 3 inches wide
Place eyeballs about 1&1/2 inches apart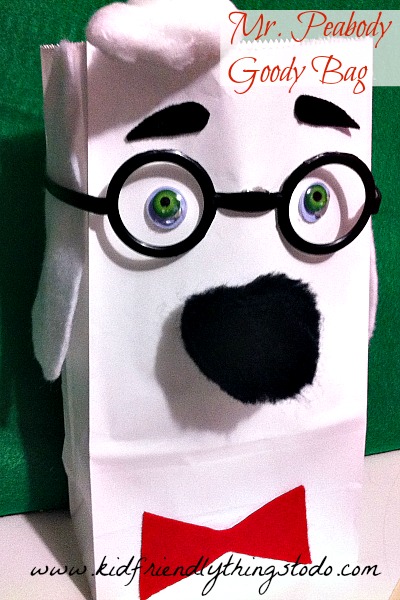 Cut the ears out of white felt – about five inches long and two inches at the bottom. They should be about 1&1/2 inches wide at the top
Assemble the bag as shown with glue
Pull one end of a cotton ball to get in pointed, and glue that to the top of the bag for Mr. Peobody's hair
Add the eyeglasses!
You're done!
~ Melissa – KidFriendlyThingsToDo.com