Sven –  He's a reindeer with a Labrador heart. Any Frozen character is a winner in my book, but Sven is such a cutie pie. You'll love this Frozen Paper Bag Craft as a craft to do with the kids or for the kids at the birthday party.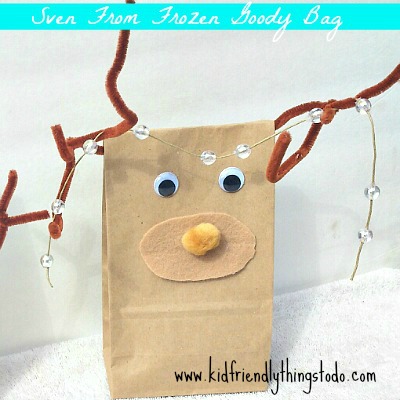 Frozen Paper Bag Craft
I love the scene in Frozen when Sven gets tangled up in the icicles hanging from the tree. This gift bag is from that scene. Here's Sven tangled in a branch of icicles.
Are you looking for more Frozen Crafts ideas? I've got you covered! We love Frozen as much as anyone else. Check out some of my other fun Frozen ideas…
Sven Paper Bag
I used a brown paper bag that measures approximately 4 x 8 x 2 inches
I found some clear bubble beads that I thought could represent ice
I beaded them onto brown cording – gluing them to secure them in place
I used a brown felt oval for Sven's muzzle and a brown pom-pom for his nose
I added wiggle eyes
Then, I used 1 long brown chenille stem  for his antler base
I cut another brown bendy in half and twisted those onto either end of his long antler
I glued the antlers onto the back of the bag
I then placed the icicles across the antlers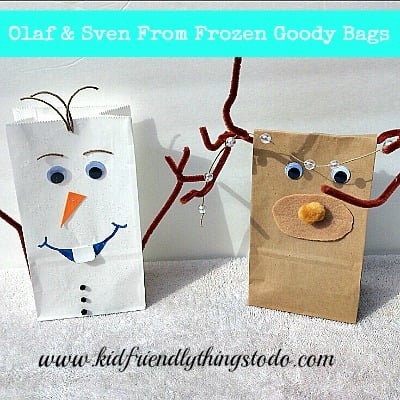 That's it –  Sven
The Olaf tutorial is Here