A Haunted Castle Bean Bag Toss – A Kid Friendly Thing To Do Game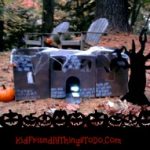 Posted by Melissa in Arts & Crafts, Crafts, Game, Game Ideas, Halloween, Halloween, Hotel Transylvania Ideas | 0 comments
This haunted castle bean bag toss is a great addition to a Halloween party (or Hotel Transylvania Birthday)! Pair this with the Ghost Bowling Game, and more for a great Halloween Carnival! You could also adapt this for a Princess Castle Bean Bag Toss – Just make it sparkly and princess colors! The castle is amazingly simple to do. Here's What You'll Need To Do To Make One Yourself:
You'll Need:
3 Cardboard Boxes – I purchased mine at Wal-Mart – I bought a 2 small and 1 large, but you'll want to open them up in the aisle and judge which ones you think would work for the castle you're making
Black Spray Paint – Get the cheap stuff this time! You don't want a slick, thick coating
Scissors
Bean Bags
Fun Spooky Accessories Below:
Optional – Gray Paint for bricks
Fake Spider Webs
Fun spooky accessories – like a ghost to hang in a window, spiders, skeletons, etc…
A strobe light, or a flickering battery operated Jack-O-Lantern light
Glow Sticks
Now,
Assemble the large box, and seal the top and bottom
Face a side toward you that is free of any writing
Cut a larch arch in the center bottom for the door, do not completely cut this out, just pull it open like a draw bridge
Cut two more arches for windows, large enough for bean bags to fit through – do cut these completely out – you can use them as grave stones to decorate the front of the castle!
Now, Assemble the 2 small boxes, but only seal the bottom this time
Pull the four sides of the top up, so they are standing up, and face the boxes toward you with the cleanest sides in front – free of writing
Take the front flap on top, and cut out ridges to resemble the top of a tower.
Cut out and arch for a window in each tower – again keeping the arches for gravestones
Spray paint the 3 boxes – Do not put the paint on thick, it's OK if some of the brown shows through – just do 1 light coat. It makes a cool old castle effect
Now, You can be done, and you would have a pretty cool looking castle! But, if you want more – you can:
Cut a little rectangle out of a sponge, and dip the sponge in gray paint. Use the sponge to add bricks to corners of the castle.
When those are dry, add black puffy paint cracks through the bricks
Add spider webs, ghosts, glow sticks and strobe lights!
Have Fun with your New Bean Bag Toss!
Here's A Tip For A Carnival Party In A Classroom – Divide the class into groups. Give out goody bags for them to collect their carnival prizes. Time the stations, and let the kids go through the game over and over until the timer goes off and they have to move to the next station. Have an adult at each station. To keep it exciting, add more challenges for the kids each time. Like, try to get it through the tiny window, this time – just make sure they get enough chances to successfully do it! Give out a little novelty prize before they move to the next station.
~Melissa – KidFriendlyThingsToDo.Com – A site providing kid friendly crafts, recipes, and fun ideas for the whole family! Plus, lots of fun things to do in Connecticut, and Massachusetts are reviewed including pictures!