Blueberry Buckle – Kid Friendly Things To Do .com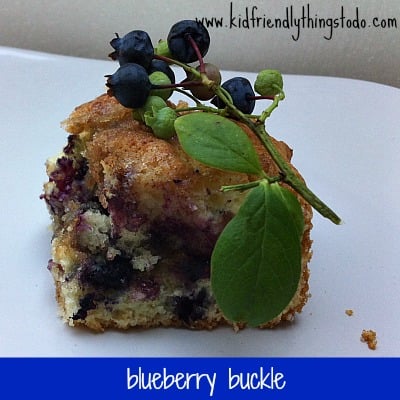 Posted by Melissa in Breads, Dessert, Easy Family Recipes | 0 comments
Wow! This bread is amazing! Use this blueberry buckle as a coffee cake, or as a dessert! Simply delicious! Here's the recipe:
You'll Need:
1/4 cup of butter softened
1 egg
2 t of baking powder
1/2 c of milk
3/4 c of sugar
1&1/2 c of flour
1/2 t salt
2 c of blueberries
Crumb Topping:
1/2 c of brown sugar
1/2 t of cinnamon
1/3 c of flour
1/4 c butter – cut up
Now:
Preheat the oven to 375 degrees
In a large bowl – cream together the softened butter and the sugar
Blend in the egg
In a separate bowl sift the flour, salt, and baking powder
Add the floured mixture little by little, alternating with the milk to the creamed mixture
Stir it all together
Fold in the blueberries
Pour the batter into a greased 8×8 pan
Mix the crumb topping ingredients, by using 2 knives to cut the butter over and over, until everything resembles a coarse meal – and sprinkle it over the batter
Bake for 40-45 minutes  – check for doneness with a toothpick. If it comes out clean, you're good to go
~Melissa – KidFriendlyThingsToDo.com – recipes, crafts, fun foods, party ideas, and fun things to do with your whole family.