A DIY Rudulph and Clarice Ornament Craft – Kid Friendly Things To Do .com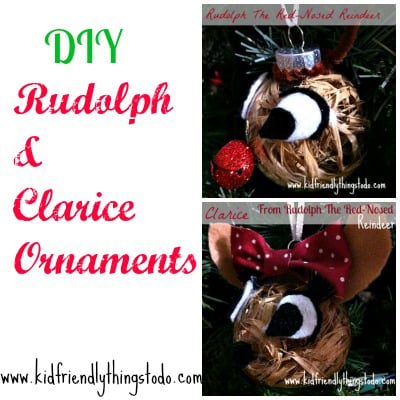 Posted by Melissa in Arts & Crafts, Christmas, Christmas, Craft, Craft, Game Ideas | 0 comments
This Rudolph ornament is very simple to do! We filled a clear plastic bulb with light brown raffia as our base, then:
What a cute pair! I'll start with Rudolph,
The key to making Rudolph are the eyes! Shape felt to make tear drop shapes for the white eye, and black pupil. Add a little black edge to give him an eyelash
we used a warm temp glue gun to add a red jingle bell for the nose
Rudolph has short stubby antlers. He's just a little fawn. Use brown chenille for the antlers!
Be sure to glue the lid of your bulb to better secure your ornament
My six year old girl loves Clarice! So, I made a Clarice for her! Here's what I did to make Clarice:
The eyes are the same as Rudolph, with the addition of plastic Eyelashes!
Clarice has a little black pom-pom ball for her nose
I found red & white polka dot material for her bow
I used red glitter glue for a mouth
She still needed something, so I made ears from light brown felt!
~Melissa – KidFriendlyThingsToDo.com