This wooden spool became a cute wish list ornament on the tree with the addition of a few simple items!
Here's what you'll need for these ornaments:
wooden dowels
red paint and paint brush
computer paper and scissors
black Sharpie
warm glue gun and sticks
ribbon or yarn to hang the ornament from
rubberband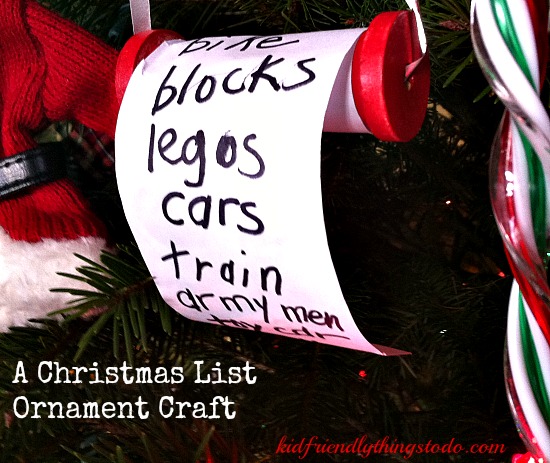 I found the wooden dowels in a package of 4 at Michael's Craft Store.
I painted the dowels red, and cut a sheet of computer paper into 4 long strips
This is the scariest step…I gave the kids a sharpie!
Then when their list was done, I glued the beginning of the list to the dowel with a hot glue gun
I wrapped the list tightly around the dowel, and secured it with a rubber band. I did this to train the paper to curve around the dowel
Then after a day or two, I took the rubber band off, and slipped a ribbon through the dowel to hang the lists on the tree!
Merry Christmas!
~ Melissa – KidFriendlyThingsToDo.com