Avocado Ranch Salad Dressing – Kid Friendly Things To Do .com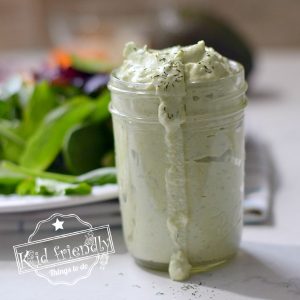 Posted by Melissa in Easy Family Recipes, Sauces, Soups & Salads | 0 comments
Simply Delicious! This Avocado Ranch dressing would be a great compliment to any salad. It would also make a great sauce for dipping! Here's the recipe:
You'll Need:
1 ripe avocado
1/4 cup of mayonnaise
1/4 sour cream
2 T buttermilk
1&1/2 t Rice Vinegar
1/8 t salt
1/8 t dried parsley
1/8 t dill weed
1/8 t garlic powder
1/8 t onion powder
Now:
 
Cut the avocado in half, scoop out the seed. Cut the halves one more time into quarters. Peel the avocado, and mash in a small bowl
Add the rest of the ingredients, and stir everything together
That's it! Enjoy!
Adapted from allrecipes.com
~ Melissa – KidFriendlyThingsToDo.com