Grilled Buffalo Chicken Salad With Avocado Ranch Dressing – Kid Friendly Things To Do .com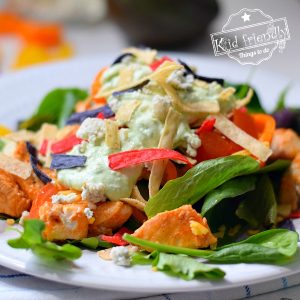 Posted by Melissa in Easy Family Recipes, Soups & Salads | 0 comments
This is grilled buffalo chicken salad is an easy, delicious, and refreshing salad! It puts me in the mood for summer! I am so ready for green grass, sun, flip-flops, and the grill! Here's the recipe:
You'll Need: Serves 4-6
3 Grilled Chicken Breast sliced
Frank's Red Hot Wings Buffalo Sauce
Salad Greens – 1 bag
Shredded Cheddar Cheese
Blue Cheese Crumbles
1 small Red onion – chopped
1 Avocado – peeled, and sliced
3 Carrots – Shredded
1 Green Pepper – Sliced
1 Roma Tomato – Chopped
2-3 Wheat Tortilla Shells
Canola Oil
Dressing:
1 ripe avocado – peeled
1/4 cup of mayonnaise
1/4 sour cream
2 T buttermilk
1&1/2 t Rice Vinegar
1/8 t salt
1/8 t dried parsley
1/8 t dill weed
1/8 t garlic powder
1/8 t onion powder
Now:
In a large non-stick skillet, over med-high heat, pour enough canola oil to cover  bottom of the skillet
Slice the wheat tortilla shells (you may want to slice extra for snacks)
Test the heat of the oil by dropping a small piece of shell into the hot oil. If it sizzles, it's ready
Fry the shells in the oil, turning constantly until they are golden brown
Place the crispy strips on paper towel to soak up any excess oil
Salt generously. Set aside – out of the reach of you, and the kids! These are so good…they might disappear before you have the salad ready 🙂
Toss the grilled chicken in enough buffalo chicken sauce to coat it
Now:
Just spread out the greens, add cheeses, onion, avocado, carrot, green pepper, and finally top with crisp tortilla strips!
Serve with Avocado Ranch Dressing – or your favorite creamy dressing!
To make the dressing:
In a small bowl, mash the avocado, and simply mix the ingredients together
~Melissa – KidFriendlyThingsToDo.com