Celebration Patriotic Jello Popcorn Recipe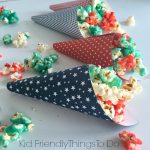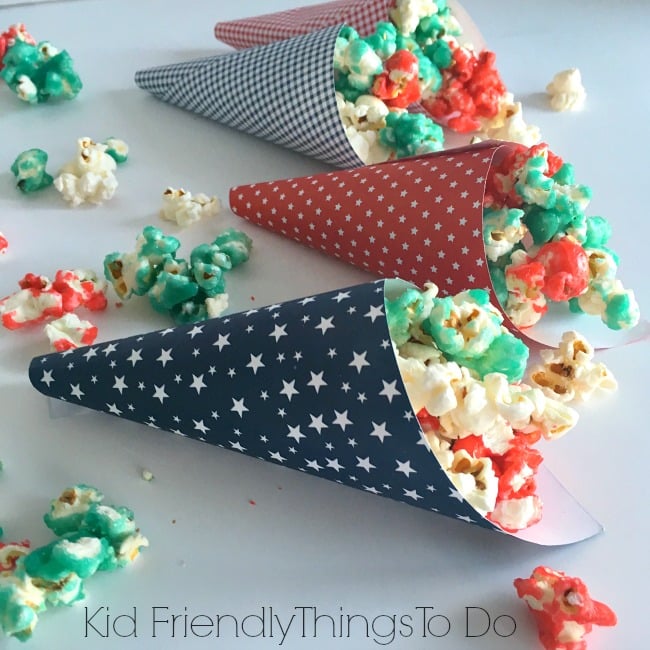 Posted by Melissa in Easy Family Recipes, Fun Food Crafts, Other Fun Foods, Snack Time | 0 comments
This popcorn is so delicious. I had to bring it out of the archives and put it on display. It's a great one for upcoming celebrations!
Warning – This jello popcorn is one of those addictive, delicious, can't stop eating it, get it away from me, kind of snacks! Last week, my good friend, Jori, brought heaps of this jello popcorn in three different brown paper bags to the drive in movie. It's funny, the camping chairs almost immediately formed a perfect semi-circle right around the bags of popcorn! Yes, my chair was one of them! The fun thing is you can color it any shade of jello. Modify it for all of your different holidays, and occasions. Here's the recipe: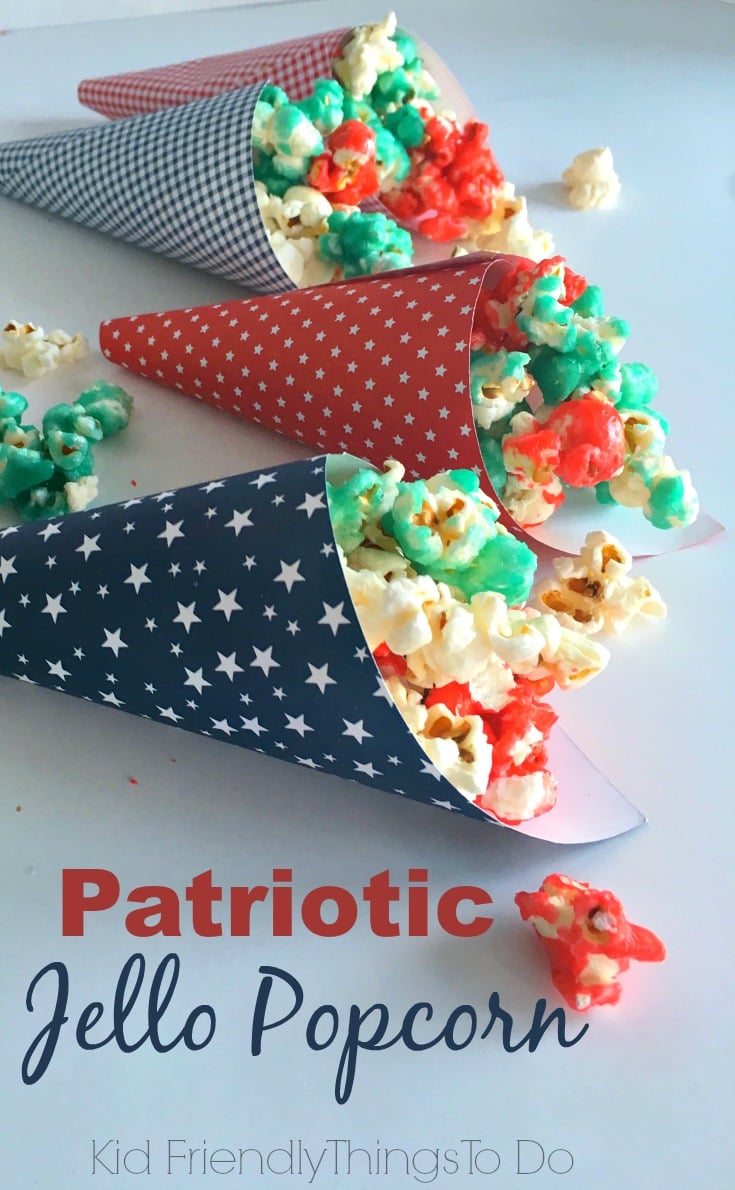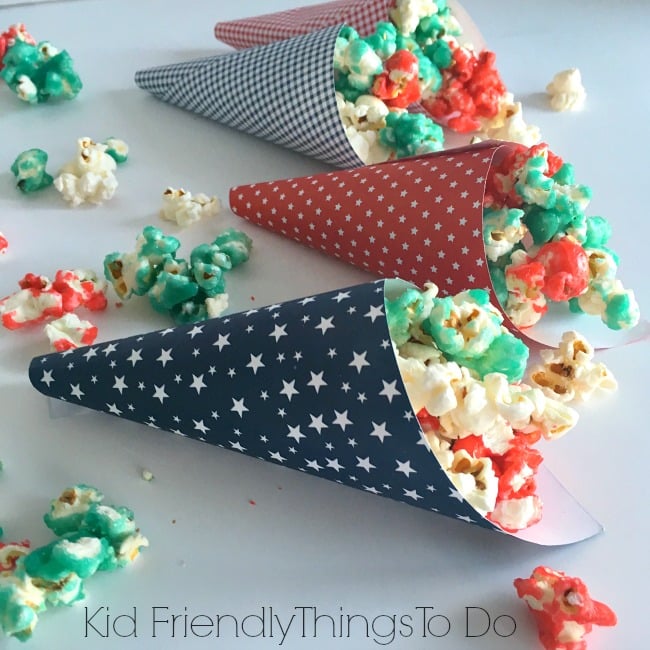 Jello Popcorn
2016-04-10 09:16:51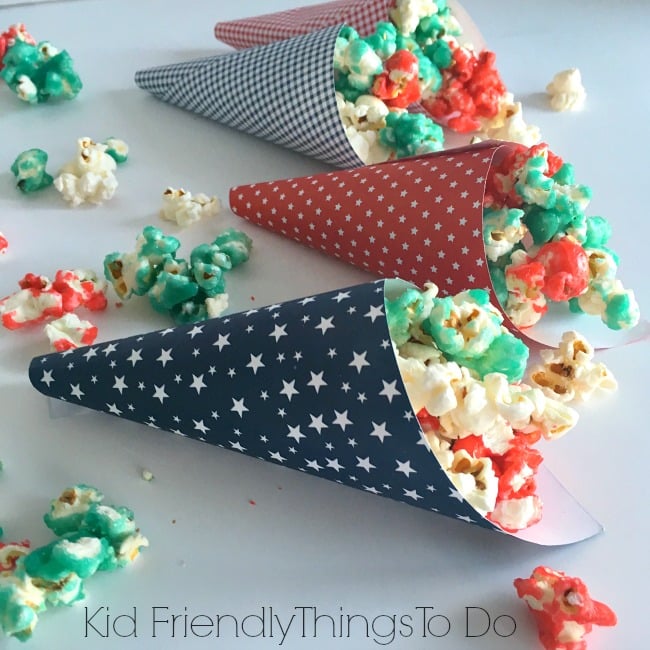 Ingredients
For each color
8 cups of popped popcorn
1/2 stick of butter
3 T of corn syrup
1/2 cup of  light brown sugar
1 small package of jello of blue and red - for patriotic purposes
Instructions
Preheat the oven to 350 degrees
In a saucepan, over medium heat...melt the butter, add corn syrup, and brown sugar. Mix together
Add the jello and stir in. Bring to a boil, then turn the heat down to a simmer for 5 minutes. Stirring occasionally
Spread the popcorn out onto a baking sheet lined with parchment paper  - or - a greased baking sheet
Pour the jello mixture over the popcorn and spread around to coat the popcorn that didn't get some yummy jello mixture
Pop this into the oven for about 10-15 minutes
Let cool
Notes
You can change this to go with any holiday or celebration just by changing the colors.
*For patriotic purposes, I also added plain white popcorn into the mix. I just used equal amounts of white, red and blue.
Kid Friendly Things to Do.com - Family Recipes, Crafts, Fun Food Crafts, and Game Ideas https://kidfriendlythingstodo.com/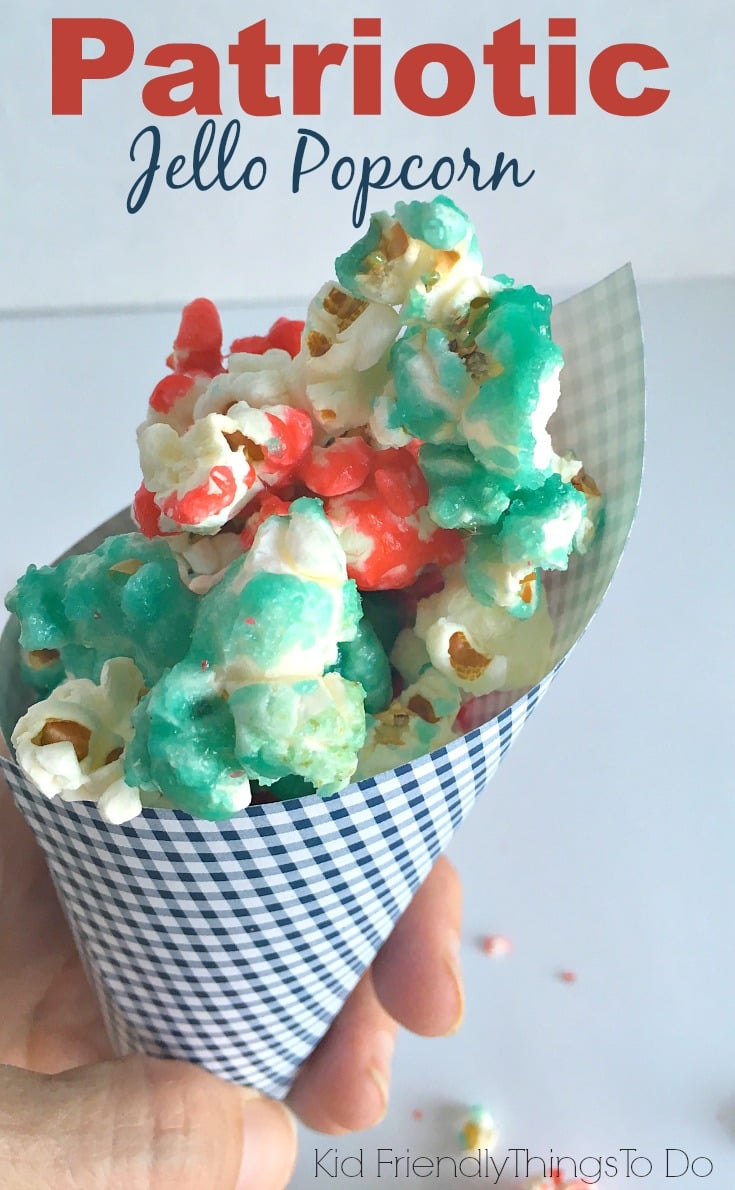 ~Melissa – KidFriendlyThingsToDo.com – fun foods, recipes, crafts, party ideas, and fun things to do with the whole family!