During Summertime, S'mores are always such a hit. Kids get so excited when they see the combination of a crackling fire, a bag of marshmallows, chocolate bars, and graham crackers! But, why wait until summer, when you can enjoy the taste of S'mores inside on a cold winter's night?!  Here's a recipe for making S'mores in your oven.
Baking S'mores in the Oven
If you like making S'mores, check out some of my other S'more Recipes, like:
Ingredients:
Graham Crackers – Broken into squares
Chocolate Bars – Broken into sections
Marshmallows – Large recommended
Cookie Sheet
Aluminum Foil
Instructions for S'mores:
Set your oven rack to the center of your oven. Turn your oven onto broil – Hi setting.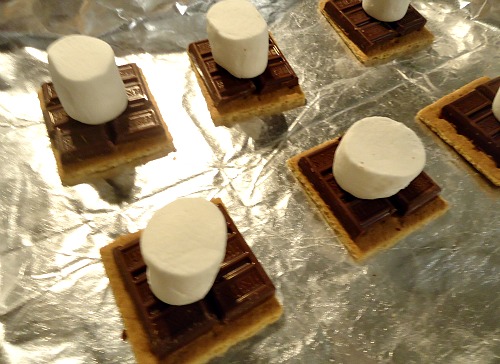 Line a cookie sheet with foil. Set graham cracker squares on the foil. Space them a couple of inches apart. Let kids add enough chocolate to cover most of the graham cracker. Now, let them put a marshmallow on top of the chocolate. Do not add the top graham cracker, just yet.
Place the cookie sheet with graham cracker, chocolate, and marshmallows into the oven, on the center rack. Keep the door, slightly open.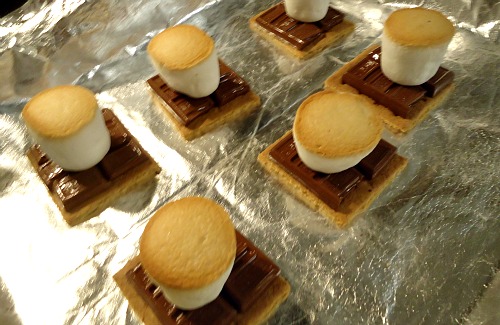 For only golden marshmallows – set the timer for about 60-90 seconds. Keep checking on them.
For darker more burnt like marshmallows (my favorite – not for most kids, though) leave them in longer. Keep a close eye on them. You don't want the graham crackers to burn.
Now, when the marshmallow's color has met your approval, pull the cookie sheet out, and set it in a place to cool.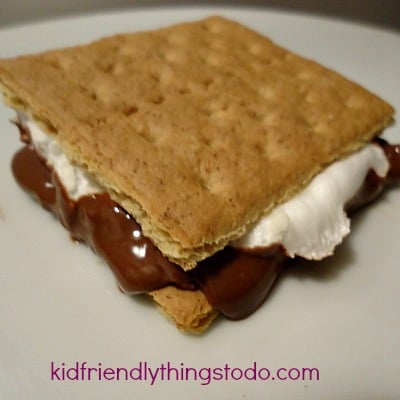 Serving:
Set a cooked S'more onto everyone's plate, and let the kids place graham cracker squares on each cooked marshmallow S'more, and press down. Enjoy!
Warning: The chocolate might be gooey! Use a napkin! 🙂
~Melissa – KidFriendlyThingsToDo.Com – fun foods, party ideas, recipes, kid-friendly crafts, and fun ideas!