Christmas Jello Cups For Fun Individual Christmas Desserts

Posted by Melissa in Fun Food Crafts, Holiday Fun Foods | 0 comments
These Christmas Jello Cups are so easy to make and so much fun. Jello is always a big hit. Especially with the kids. These Christmas Jello Cups are a perfect simple dessert to make for those holiday parties. Come on in and I'll share my simple "how to" on Christmas Jello Cups For Fun Individual Christmas Desserts…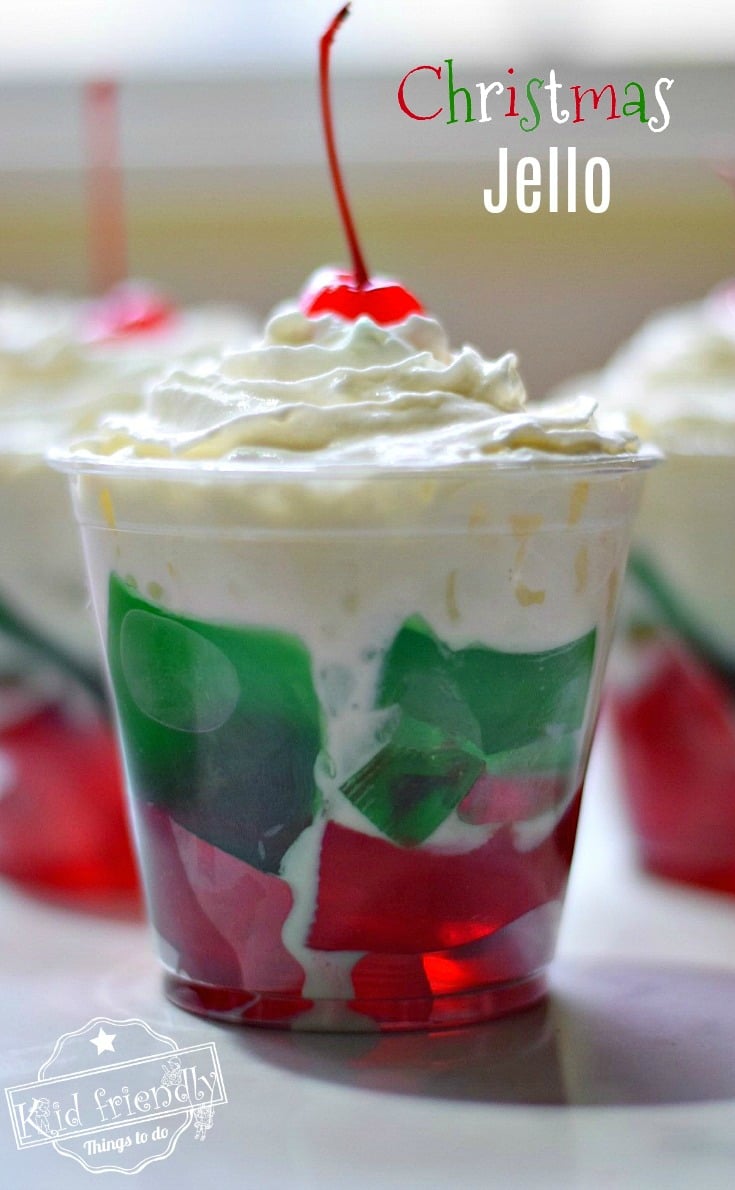 I love how the whipped cream melting its way through the jello cubes gives the jello a stained glass jello look without the taste of white jello. My kids always love the look of white jello mixed with other jello colors, but they never liked the taste of the sweetened condensed milk jello. These cups have all of the ingredients they love. Finish them with a Maraschino cherry and you've got yourself a win-win.

**Make the jello for these cups a day in advance, or the morning of your party. The jello takes several hours to set up – allow for about 3- 4 hours of refrigeration 🙂
Here's the printable recipe for Better than Stained Glass Jello – Christmas Jello Cups For Fun Individual Christmas Desserts
Christmas Jello Cups
Scale
Ingredients
You'll Need
mayonnaise

2

packages of red jello

2 cups

of hot, and 2 cups of cold water

2

packages of green  jello

2 cups

of hot water, and 2 cups of cold water
whipped cream – I used a store bought can of refrigerated whipped topping
maraschino cherries with stems
Extra Equipment
(2) 9×14 pans
paper towel
clear plastic cups – I used 9 oz. cups
Instructions
Prepare the pans by rubbing a thin layer of mayonnaise with a piece of paper towel – It's an old trick my mom taught me. Nobody will taste the mayonnaise and you won't get oil on the jello by using cooking spray
Prepare the red jello by stirring  2 cups of hot water with the red granules, until they are dissolved
Add the cold water and mix in
Pour into one of the 9×13 pans
Next, prepare the green jello using the 2 packages of green jello, 2 cups of hot water, and 2 cups of cold water
Pour into a prepared pan
Place both pans of jello into the refrigerator
Allow the two jello pans to set up in the refrigerator for about 3 hours
To Prepare the Cups
(You're basically cutting the jello into cubes)
When it's ready, Pull the jello out of the fridge and cut it into strips about an inch wide
turn the pan and cut strips going the other way about an inch wide
Spoon some red jello cubes into the bottom of the plastic cups- going about halfway up
Spoon green jello cubes onto the red
When you or your guests are ready, add whipped topping, and a cherry to the top and enjoy the yumminess! 🙂
Notes
The picture in the post shows the whipped cream melting a bit and running down through the cracks of the cubes. Depending on your climate, this can take anywhere from a few minutes up to 15 minutes for the whipped topping to start trickling down. The melting whipped cream mixed with the jello is delicious and so beautiful! Just have a reserve can of whipped topping around to top the jello off with more on top and add a cherry.
Merry Christmas
~Melissa – Kid Friendly Things To Do