These Corn on the Cob Rice Krispies Treats are the perfect fun snack for all of those family picnics, farm birthday parties, and summer fun. A fun treat for kids, teens, and adults during summer parties.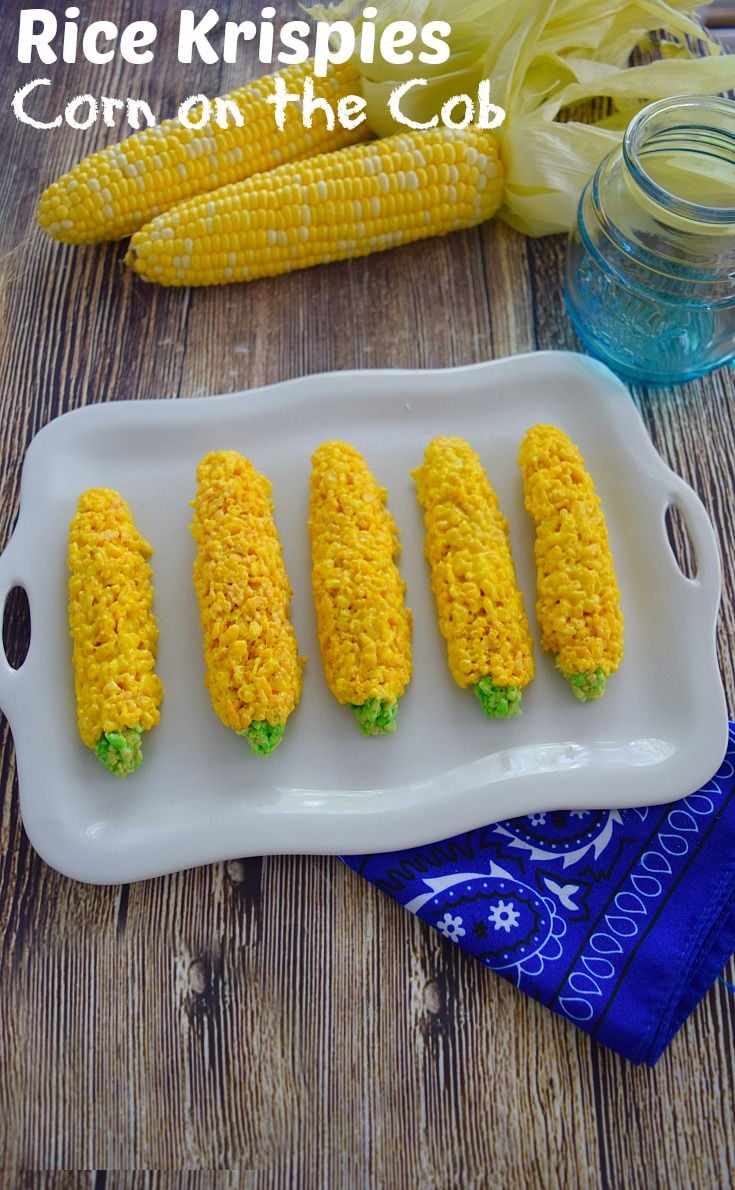 These really turned out cute. I have had my corn mold out for about a month on the counter to remind myself to try this idea of making Corn on the Cob Rice Krispies Treats. My weekends have been filled with birthday parties and soccer. My weeknights have been at track fields. Geesh! I can't wait for summer to begin, so we can relax and try more of these fun and yummy treats.
What I love about this Rice Krispies Treats Recipe
this is the perfect treat for summer snacks or summer parties
a great snack idea for a farm party
easy to make
you can make this summer treat ahead of time
For these Corn on the Cob Rice Krispies Treats, you'll need:
butter – unsalted
marshmallows – I used regular-sized marshmallows for this recipe, but lately, I have started using a bag of mini marshmallows. The mini marshmallows melt faster and there is less time to stir the mixture
rice cereal – I have used both Kellogs Rice Krispies Cereal and the generic form of the cereal. Both work just fine
yellow and green food coloring – The amount you use will vary because each type and brand of food coloring has different color intensity. Start out by adding just a few drops and stirring the mixture. If you would like the color to be darker, then add more food coloring
Additional Equipment:
Corn on the cob cake pan – Back when I first made these fun treats a cast iron pan was the only mold I could find. Now, they have handy dandy corn-on-the-cob silicone molds. I posted a link to Amazon below
parchment paper – this is so important. It allows the rice krispies treats to dry without sticking to your countertop. You can, however, use wax paper instead
butter spray oil – I like to use a butter-flavored spray oil so the taste of the oil doesn't tamper with the flavor of the treats
saucepan – this is used to melt the butter and mix the marshmallows until they are melted
2 mixing bowls – it is important to have 2 different bowls so you can separate the colors
How to Make Corn on the Cob Rice Krispies Treats:
(This makes 1 dozen treats)
Melt the butter over low to medium heat
Add the marshmallows and stir until melted
Remove from heat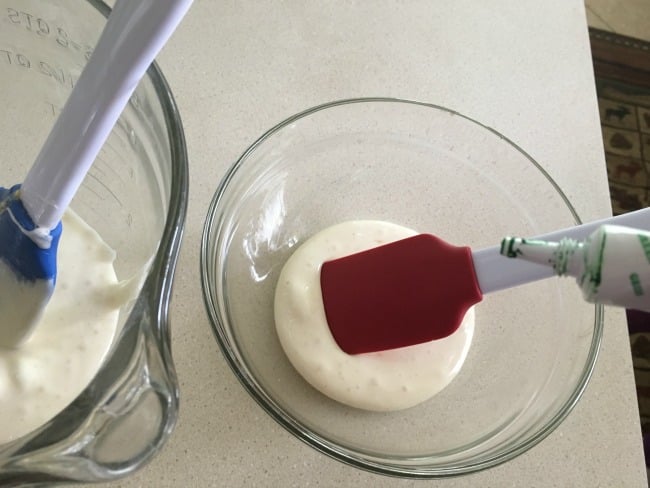 Divide the marshmallow mixture putting about 90% in one mixing bowl and the rest in the other
Add yellow food coloring to the larger bowl of marshmallows and stir in
Add green food coloring to the smaller bowl
Divide the rice cereal, putting most of it into the larger bowl (about 4 cups) and the rest into the smaller bowl
Stir and stir and stir again
If the marshmallow gets hard too quickly, just pop the bowl in the microwave for 10 seconds and it will loosen up
*You do want it to harden just enough to conform to the mold before moving it off to cool completely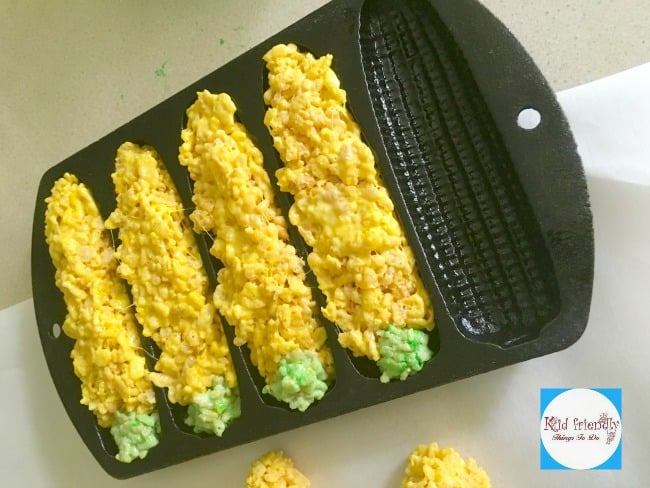 Spray the skillet mold with the butter-flavored oil and add about 1/4 cup of the yellow mixture to the corn section of the mold and about 1 tsp.  of green to the stem section
Press down to mold it to the shapes of the corn
Carefully pull the rice krispies treat out and place them on parchment paper to cool completely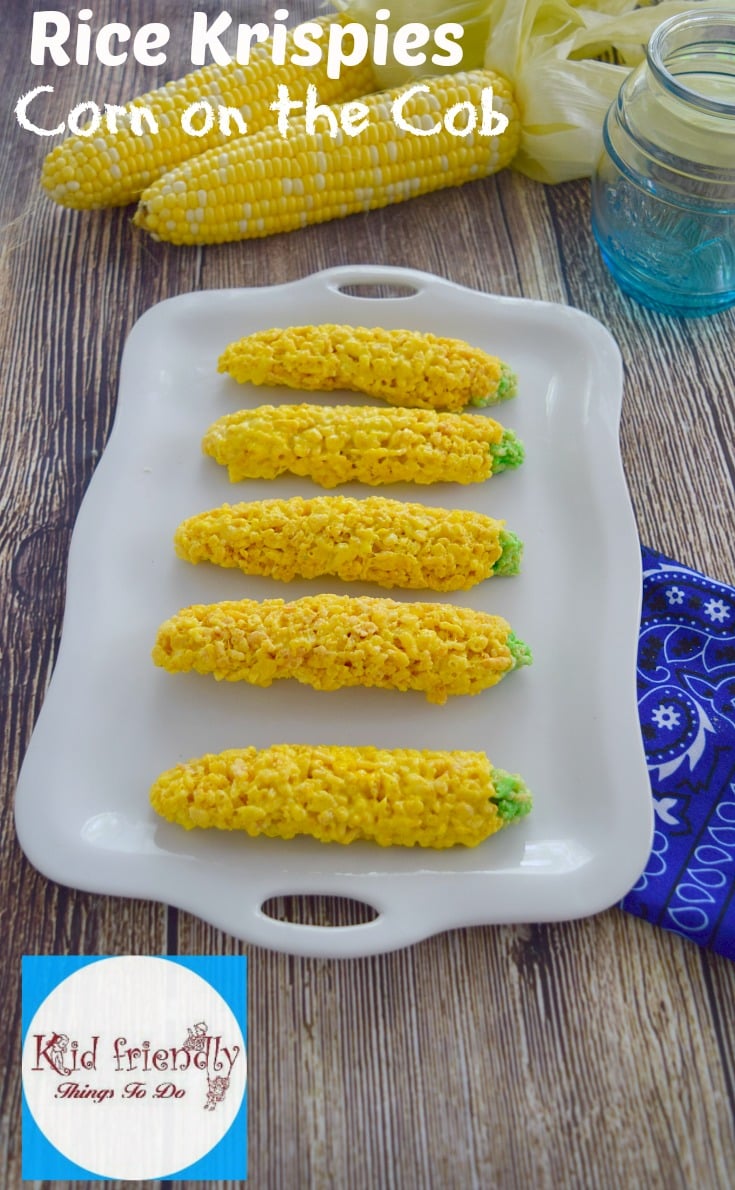 Expert Tips:
It is important to melt the butter over low or low to medium heat. You don't want to burn the butter or overcook the marshmallows. Overcooked marshmallows will become tough and won't mold very well
If your marshmallow mixture in the mixing bowls hardens too fast and you need to soften it, then pop it into the microwave for a few seconds and try again
Variations
Add a wooden popsicle stick into the bottom of the corn on the cob for a fun corn on the cob rice pop
Get even more creative by adding a square of yellow rice krispies treats to simulate butter and green sprinkles for chives
What to serve with Corn on the Cob Rice Krispies Treats
I think these treats would be a fun snack for a summer barbeque. Some other food that would go well at your summer potluck are
Storing
To Store – You can store these just like any other Rice Krispies Treat in an air-tight container, at room temperature for up to 2 days – or – you can freeze them.
Freezing: Make sure you have wax paper dividing each treat and place them in a freezer bag. You can freeze them for up to 6 weeks
Thawing: Let them set out for about 15 minutes at room temperature to thaw
Serving Size
This recipe will make about 1 dozen corn on the cob treats
You can double the recipe for more
My top Amazon Picks for this recipe
affiliate links
[box] [/box]
Follow my Fun with Food Board on Pinterest for more Inspiration
I love creating in the kitchen for the kids or with the kids there helping along. I have a fun with food Pinterest board that I catalog all of my holiday ideas and I'd love for you to join me and follow along for ideas you can try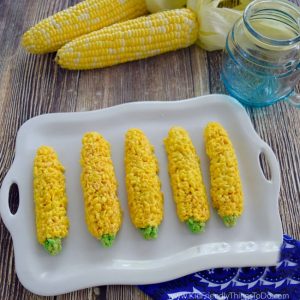 Corn on the Cob Rice Krispies Treats Fun Food for Summer!
Cute and easy summer treat for kids, teens, and adults
Ingredients
4

tbsp

butter

unsalted

10

oz.

marshmallows

large or 5&1/2 cups of miniature marshmallows

5

cups

rice cereal

yellow food coloring

green food coloring
Instructions
Add the marshmallows and stir until melted

Divide the marshmallow mixture putting about 90% in one mixing bowl and the rest in the other

Add yellow food coloring to the larger bowl of marshmallows and stir in

Add green food coloring to the smaller bowl

Divide the rice cereal, putting most of it into the larger bowl (about 4 cups) and the rest into the smaller bowl

Stir and stir and stir again

If the marshmallow gets hard too quickly, just pop the bowl in the microwave for 10 seconds and it will loosen up

Spray the skillet mold with oil and add about 1/4 cup of the yellow mixture to the corn section of the mold and about 1 tsp.  of green to the stem section

Press down to mold. Let it cool slightly

Pull the rice krispies treat out and place them on parchment paper

Continue with the rest of the rice krispies mixture
Notes
Nutrition Facts are only an estimate 
Nutrition
Calories:
151
cal
Carbohydrates:
29
g
Protein:
1
g
Fat:
4
g
Saturated Fat:
2
g
Polyunsaturated Fat:
0.2
g
Monounsaturated Fat:
1
g
Trans Fat:
0.2
g
Cholesterol:
10
mg
Sodium:
140
mg
Potassium:
23
mg
Fiber:
0.2
g
Sugar:
15
g
Vitamin A:
325
IU
Vitamin C:
2
mg
Calcium:
43
mg
Iron:
4
mg