Kids love to design their flip-flops. Let them get creative with their footwear this summer and make cute little designs from toys, flowers and ribbons.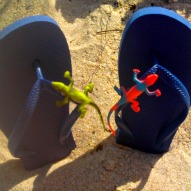 Design Your Own Flip-Flops with the kids
Ribbon –
Stitch the ribbon into the beginning of the strap. Wrap the ribbon around, overlapping as you go around the shoe. Stitch the ribbon to secure it to the other end of the strap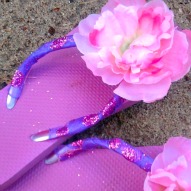 Adding flowers or decorations to the ribbon – Glue with strong waterproof glue – I like the Fabric-Tac – It's waterproof and dries quickly. Stitch to add more strength.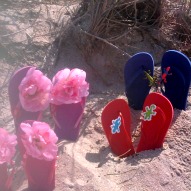 Fun Plastic Decorations – Glue with strong waterproof glue – Secure with transparent string – like strong fishing line, by wrapping around the strap and toy, and tying in place.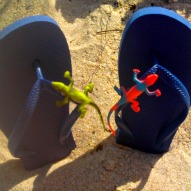 **The most secure decorations have lots of stitching by me – not my favorite thing to do, but it really does help keep the stuff in place. I wish I could have found a tough glue to avoid all of the sewing. I tried gorilla glue, Epoxy, and Liquid Nails – no go! You really do have to do some sewing on this project.