These Homemade Chicken Flautas are easy to make and simply delicious. Rolled-up crispy tacos filled with shredded chicken and savory flavors from spices, cheese, and vegetables and finally cooked until crisp. Fry them, bake them, or use your air-fryer for this Mexican-inspired dish, dinner, or appetizer.
Easy Homemade Chicken Flautas
These Chicken Flautas are sure to become a family favorite. If you love these, then you'll love our other Mexican-themed recipes like Slow Cooker Tortilla Soup, Mexican Cornbread, or Cinnamon Crispas.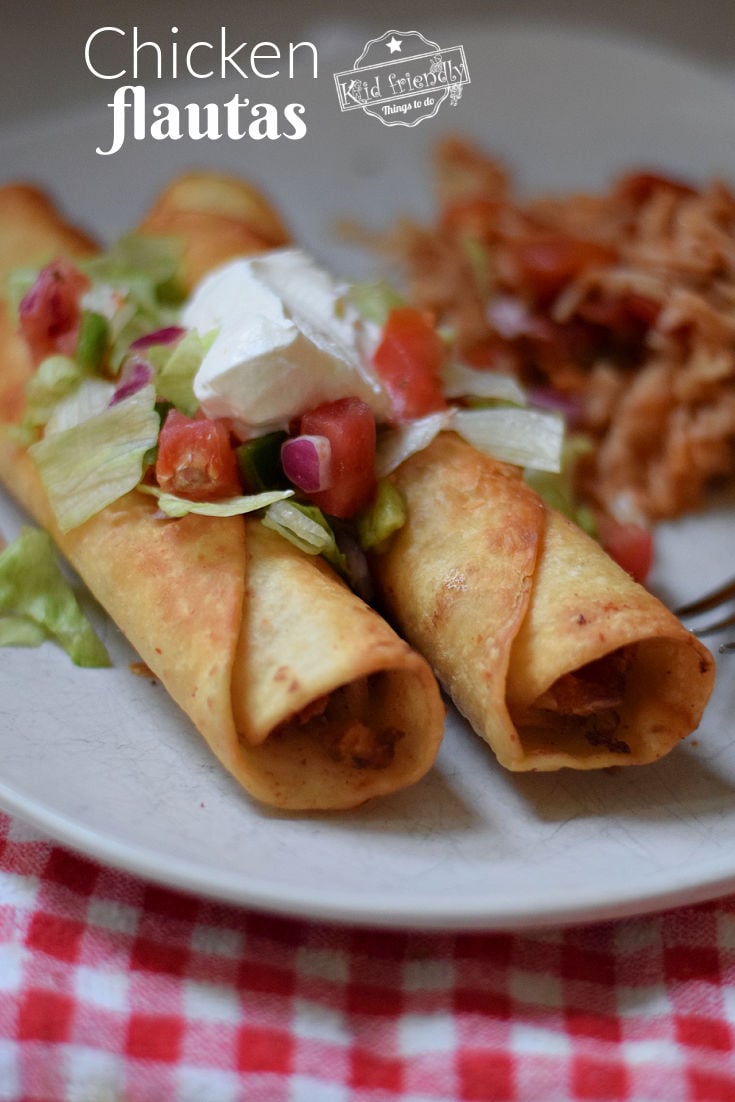 I have to admit, this was my first time making flautas. I've always enjoyed them at Mexican restaurants and wondered how homemade Chicken Flautas would taste. Once I tried making them, I was pleasantly surprised at how easy they were to make. Using rotisserie chicken was a quick shortcut for this recipe, and the finished product was absolutely delicious. A big hit with the whole family.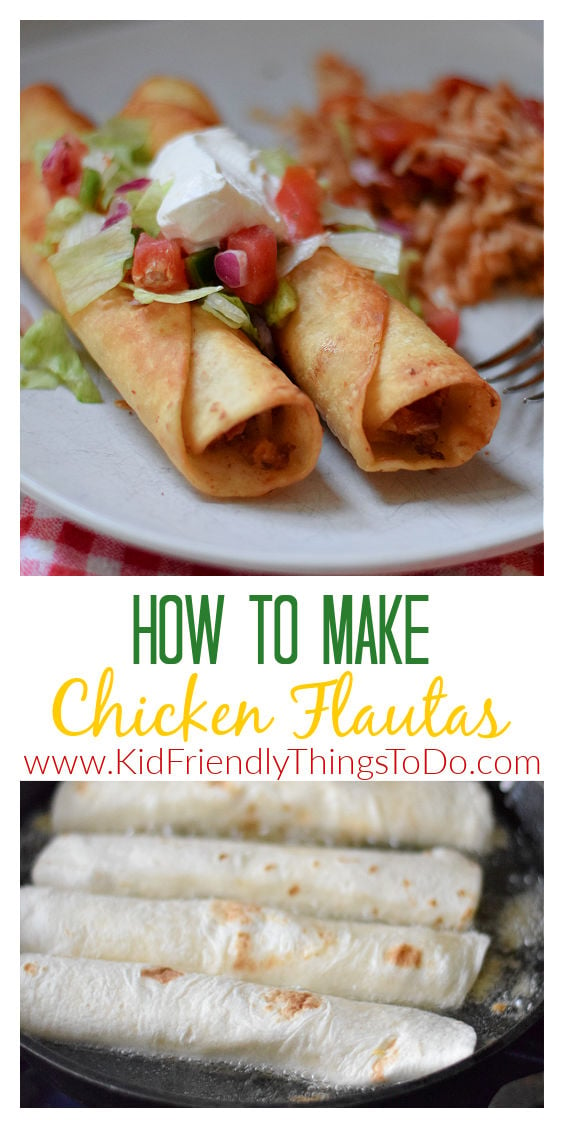 What is the Difference Between Flautas and Taquitos?
Flautas and Taquitos are both rolled tacos that are baked, fried, or even air-fried. They are both filled with savory and/or cheese fillings like Mexican cheese, shredded meat, spices, salsa, green chiles, and more. The only difference is that Flautas are typically rolled in flour tortillas while Taquitos are rolled in corn tortillas.
More Cooking Methods for Chicken Flautas:
Baking: Flautaus by placing them in a lightly greased baking dish. Spray with spray oil on the sides and top to really crisp them up. Bake at 350 degrees for about 30 minutes
Airfryer: Spray the fryer basket with cooking oil. Place Flautas seam side down so they have space between them. Cook ate 400 degrees for 3 minutes, flip them and cook an additional 3 minutes – 6-7 minutes total.
Tips and Tricks for this recipe:
Use rotisserie chicken as a shortcut for this recipe
6-inch flour tortillas are best for this recipe
Use store-bought Pico De Gallo
If frying your Flautas, a cast iron skillet is best to use
Use a toothpick with a rounded end to make it easier for removal
When frying your tortillas, start seam-side down
Use long tongs to hold tortillas down for a few seconds so the seam can seal
Do not turn the burner up all of the way. Keep the heat on a medium to medium/high level so the oil does not burn
A good way to test the oil before frying it is to drop a tiny piece of tortilla in the oil. If it sizzles and floats – immediately then it is ready
How Hot Should Oil be for Frying Flautas?
Oil should be about 375 degrees to fry your Flautas in. Test the oil by dropping a small piece of tortilla in the heated oil. If the tortilla floats and sizzles immediately, then it is most likely ready. Fry flautas until golden brown on each side. This will take about 1 minute on each side.
How Do You Make Flautas?
To make the Flautas recipe that I made, you simply shred the cooked chicken and mix in spices, diced chiles, pico de Gallo, shredded Mexican-style cheese, onion powder, garlic powder, salt, and pepper
Spoon chicken onto flour tortillas and roll up
Place a toothpick into the rolled-up tortilla to keep it from unwrapping
Place the rolled tortillas into prepared cooking oil
Fry until golden brown on each side
Remove toothpicks before serving
Storing and Keeping your Flautas Warm
Store Flautas in a zip-tight bag for up to 3 days in the refrigerator
If you need to keep the Flautas warm before serving, place them on a parchment paper-lined baking sheet and set them in the oven to the lowest temperature possible
Topping Ideas:
Pico De Gallo
Shredded Lettuce
Shredded iceberg lettuce
Chopped tomatoes
Sour cream
What to Serve with this Mexican Dish:
More Mexican Dishes
Print
Homemade Chicken Flautas Recipe
Delicious and easy to make Chicken Flautas
Author:
Prep Time:

10 minutes

Cook Time:

3 minutes

Total Time:

13 minutes

Yield:

1

dozen

1

x
2

–

3

cups of shredded cooked chicken

1/2 cup

of Pico De Gallo – I used store bought

1

small can of diced green chiles – undrained

1 cup

of shredded Mexican style cheese

1/2 tsp

. of salt

1/2 tsp

. of garlic powder

1/2 tsp

. of onion powder

1/4 tsp

. of ground pepper

12

(6-inch) flour tortillas
oil – canola or vegetable oil works well
Instructions
In a large bowl, mix chicken spices, Pico De Gallo, cheese, and spices
Fill a skillet with about 2 inches high of oil and heat it over medium heat to 375 degrees
Place about 2 large spoonfuls of filling onto each flour tortilla
Roll tightly and secure with a toothpick – slide it in sideways
Place about 4 at a time, seam side down into heated oil
Fry each side until golden brown
Remove and place on paper towels to drain any excess oil
Take toothpicks out of each Flauta before serving
Notes
Keeping Flautas Warm
Keep them warm on a parchment-lined baking sheet in the oven that is set to warm or the lowest temperature while preparing the rest of the Flautas
Frying time:
I fried each side for about 1 minute before turning
If they are browning too quickly or turning dark brown, turn the heat down a smidge