Celebrate Thanksgiving in style with this Pilgrim Hat Craft. Kids will look so adorable at the Thanksgiving table in these Foam Pilgrim Hats. Grab the kids to help you with this fun and easy Thanksgiving Craft. Make these fun hats before the meal and let the kids wear them for Thanksgiving Dinner…
Here's What You'll Need-for each Pilgrim Hat:
A sturdy piece of paper, like card stock or poster board to use for your template
12×18 piece of black craft foam
Yellow foam sheet
Gold foam sheet
Pipe Cleaner – Also called chenille craft stems
Craft Glue
measuring tape
marker
A kid – to measure the size of their head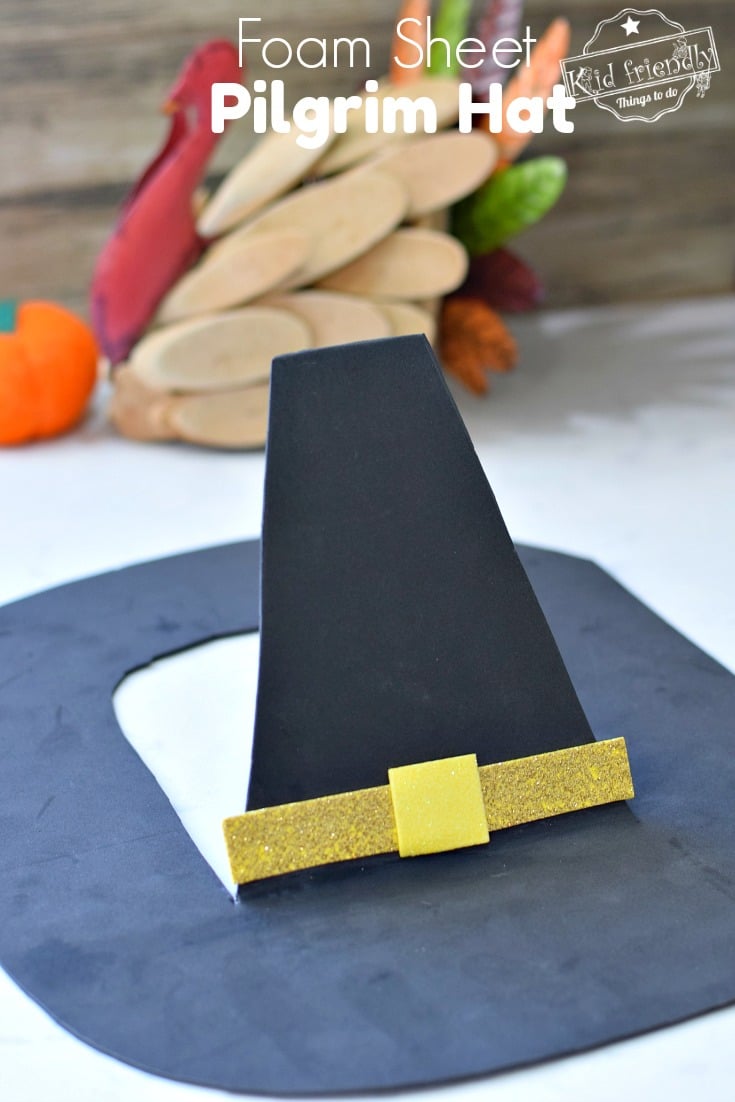 Instructions:
Here is a template for your pilgrim hat (just click and print), or you can just follow the instructions to make your own.
The template is found, here: pilgrim-hat
Start out with your card stock, marker, and measuring tape

at the bottom of the page measure a line 5 in. across, and draw the line with you marker
Now, with a slight angle inward, about 80 degrees, make a line going 6 and 1/2 in. in length upward.
Connect the 2 vertical lines

This is your template
Cut this out to use
Now, layout a black piece of paper-or-foam, and in the center, trace your hat template
Cut around the 2 vertical lines and the top shorter line – This will be the hole for a child's head
*DO NOT CUT THE BOTTOM 5 IN. LINE – you'll just have a hole in a black piece of paper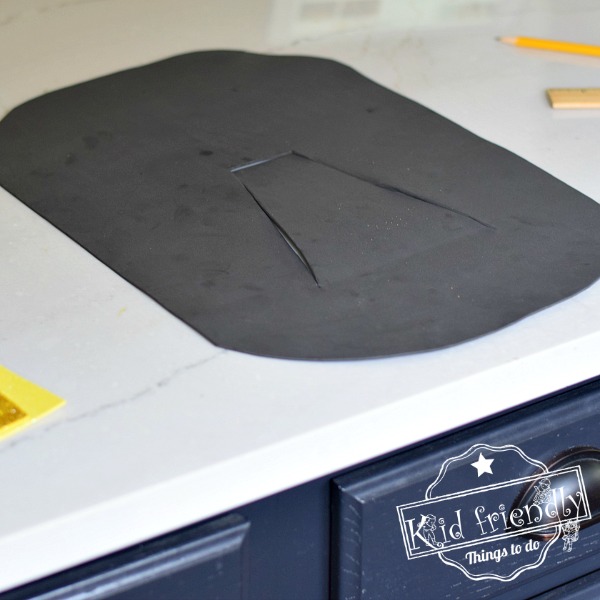 Now, cut curved lines from the 4 outside corners of your large black foam. You can trim it as much as you need to. I had to trim quite a bit back because the hat brim was too long in front, and the kids couldn't see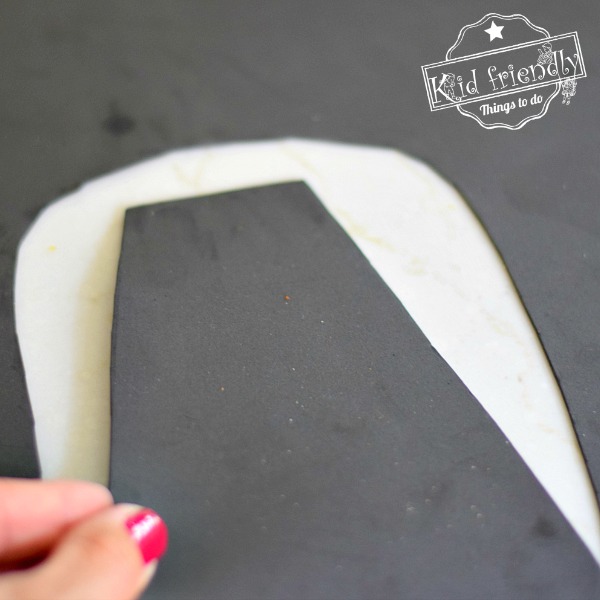 Try the hat onto your child or children. Adjust the size of the opening so that it fits them
Turn your hat to the backside.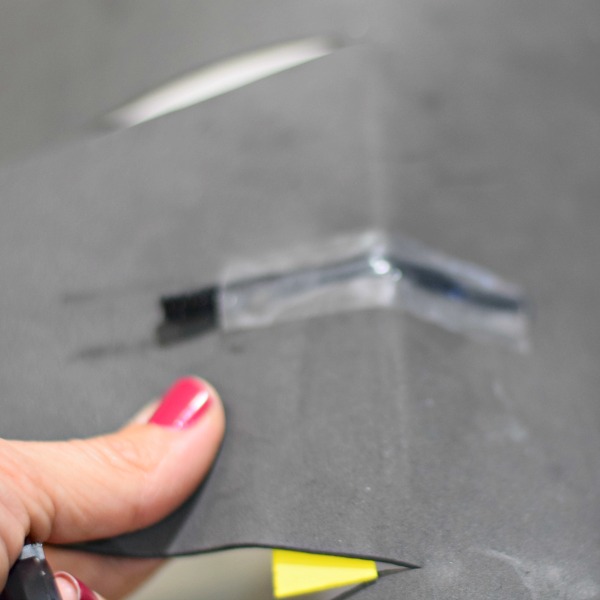 Take your pipe cleaner and tape one end of it under the brim, and the other end going up the tall hat piece. This will help keep the hat upright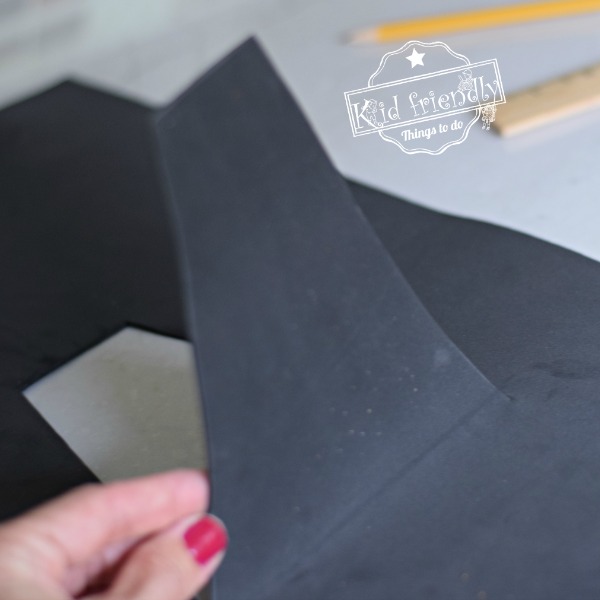 Pull the center, part forward to make the pilgrim's hat stand up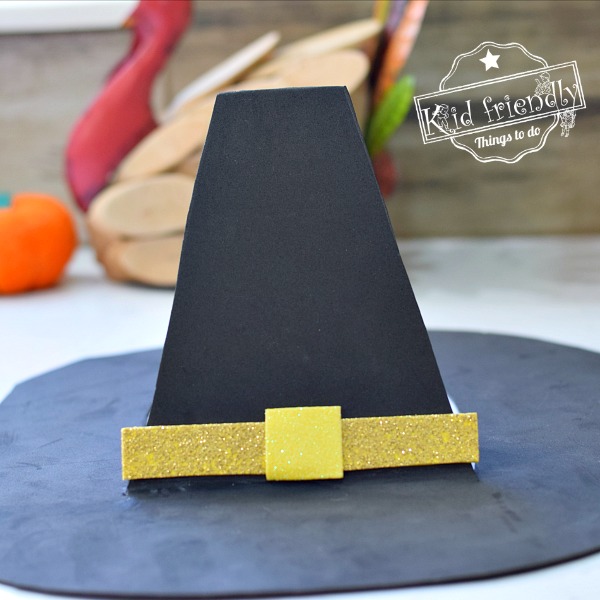 Decorate with a strip yellow foam
Finally, add a square piece of gold foam
Below are old photos of the kids crafting these hats out of construction paper. Abi has one on her head…