Try this easy and fun Halloween Game this year. It's a great party game for kids and takes very little time to set up. Marshmallow Ghosts on a String is a hilarious Halloween Game to Play. Come on in and I'll show you how to make this Halloween Party Game…
This is such a fun Halloween Game to play with any age.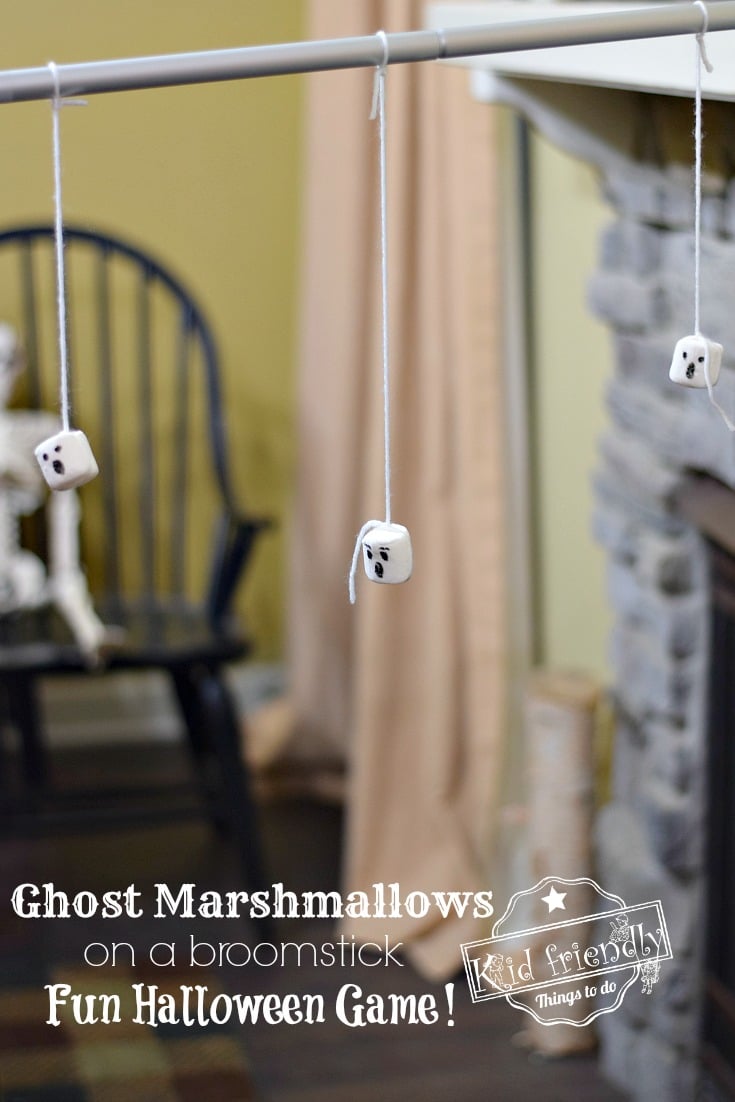 It's so easy to set up, too.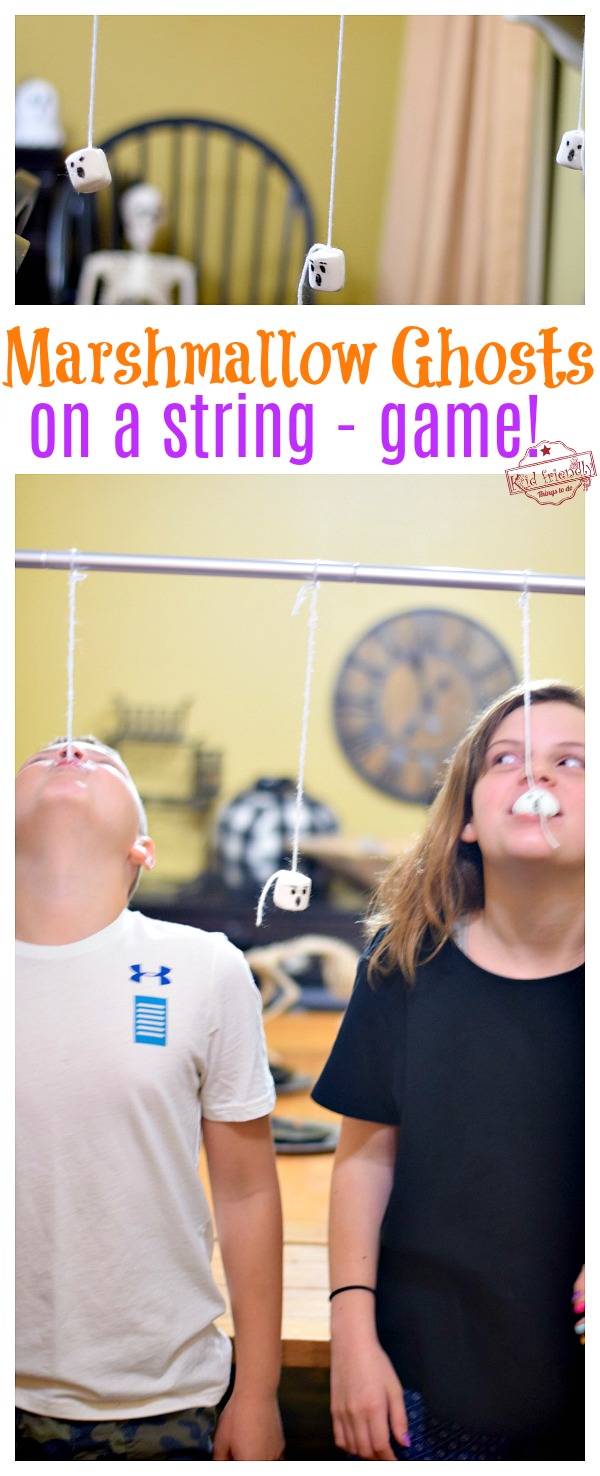 You only need a few minute time, and you'll be ready to roll!
Are Marshmallows Safe for kids with Allergies?
It's not worth the risk, so most foods are banned from school parties. Maybe there is still a chance, with specific food items – in any school. I know that on occasion, our school's room moms have cleared some food-related games with the nurse (who usually has the master list of the kid's allergies in her care) and have been given the green light for some games involving food. With the proper protocol taken, marshmallows might be one of those foods that have a chance of being allowed at school parties.
As a matter of fact, the Campfire brand marshmallows states that it is gluten-free, nut-free, dairy-free, wheat-free, egg-free, etc… Here's a link to their statement about allergies: https://www.campfiremarshmallows.com/allergen-statement/
Kraft marshmallow brand also has an allergy-free check for most allergens. Here's their link: https://allergeninside.com/foods/ingredients/600699661027/Kraft-JetPuffed-Marshmallows
*Note- Although, marshmallows, like Campfire brand marshmallows are approved by snack safe sites, not 100% of allergens are listed, so please be diligent with your group of kiddos. If you do get the green light, I'd still inform parents ahead of time and maybe even have them sign off on it.
Another alternative would be to host your own Halloween party and play this game at home.
Here are my top Amazon Picks for this fun Halloween Party Game…
[box] [/box]
Here's what you'll need for this fun Halloween Game…
Jumbo marshmallows
*My photo shows regular-sized marshmallows, but I think Jumbo marshmallows would be the most fun and challenging
Black food marker
String
Broom – a fun wooden broom that resembles a witch broom would be great for a Halloween Game
Instructions for Setting up Marshmallow Ghosts on a String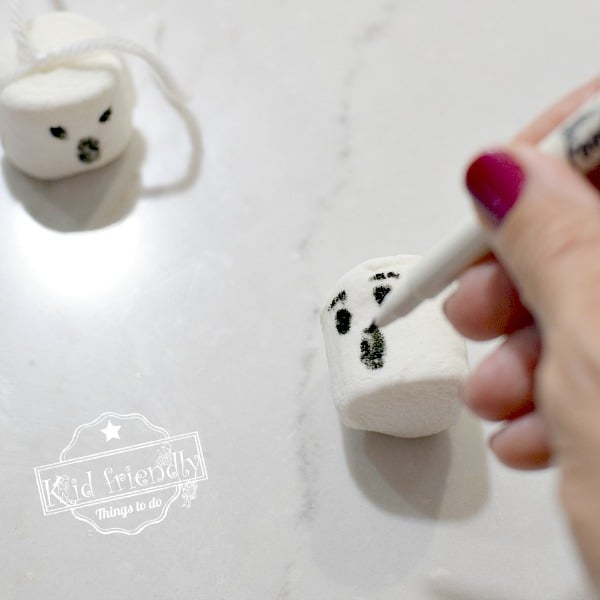 Make ghost faces on marshmallows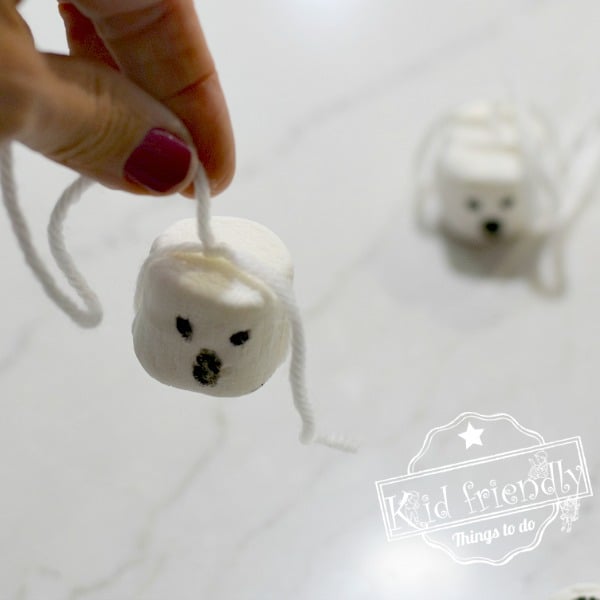 Tie a long string around ghost marshmallows and tie a knot at the top of the marshmallow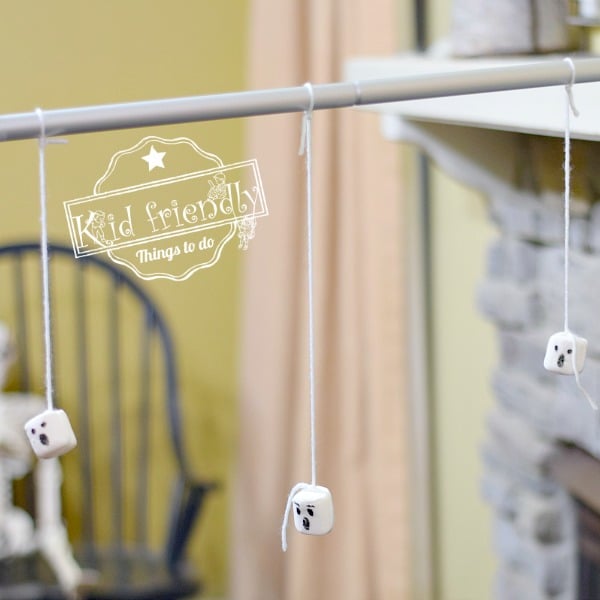 Tie strings around a broom, leaving space for each child
*vary heights
Have 2 adults hold the broom up, or prop it up on 2 ladders spaced far apart with the broom ends secured to the steps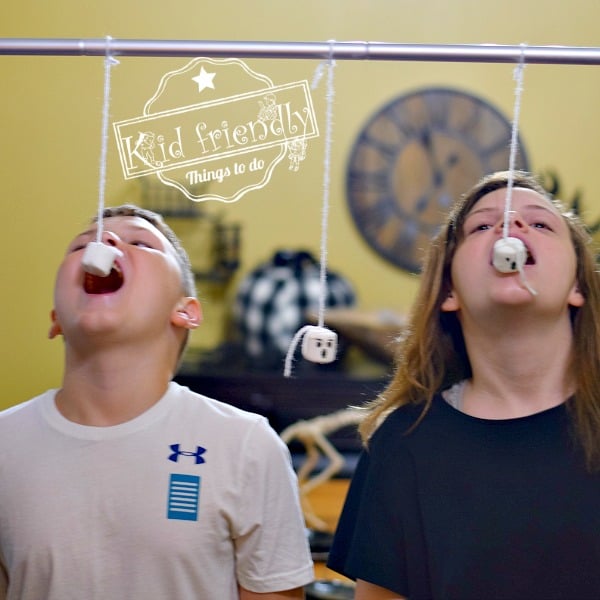 Line up the players so they are about mouth level with the ghost marshmallows
*you may need to adjust the heights of the marshmallows by untying the string and lowering or raising it
Instructions for Playing Marshmallow Ghosts on a String
Players should put their hands behind their back
*It's up to you if you want to sway the broom a little or fling the strings to make it harder for players to grasp them
When you are ready, yell go!
Players should try to eat their entire Ghost Marshmallow without dropping any on the floor
*If it drops – they are out
That's it!
~Happy Halloween