Add Chocolate Covered Strawberries to your Patriotic Holiday. These fun Patriotic Strawberries are perfect for Fourth of July, Memorial Day and Labor Day picnics. They are easy to make and fun to decorate with the kids. Come on in and I'll share this fun Patriotic Chocolate Covered Strawberry Fun Food Idea…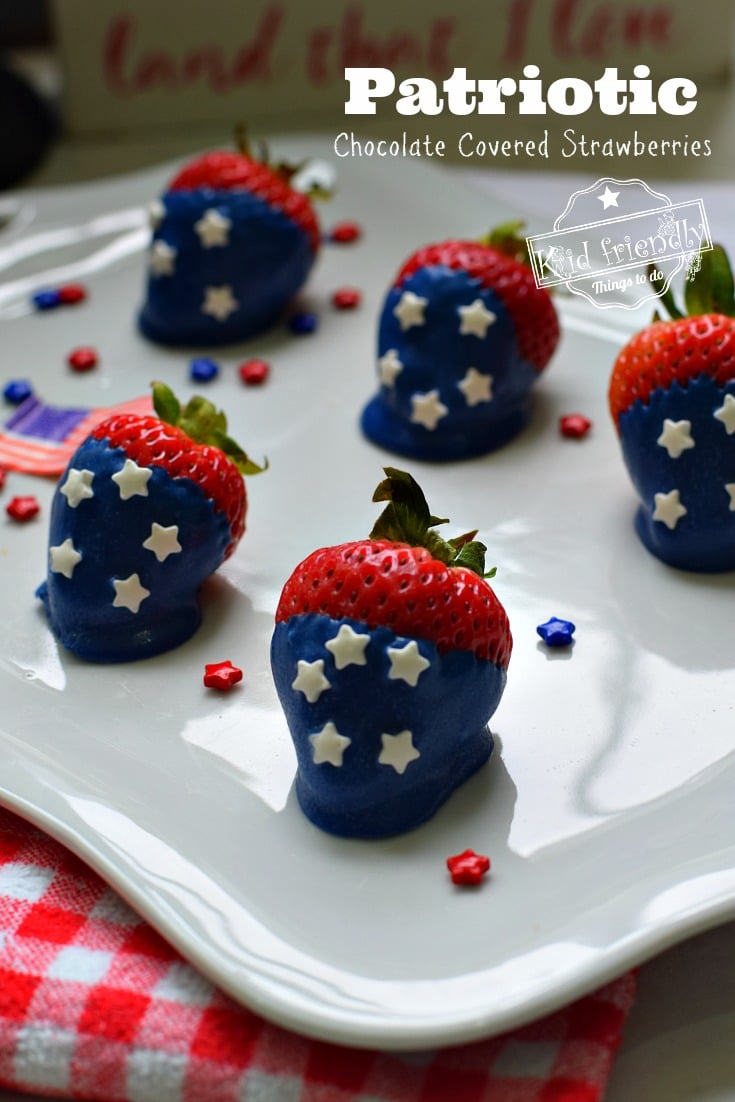 Patriotic Chocolate Covered Strawberries…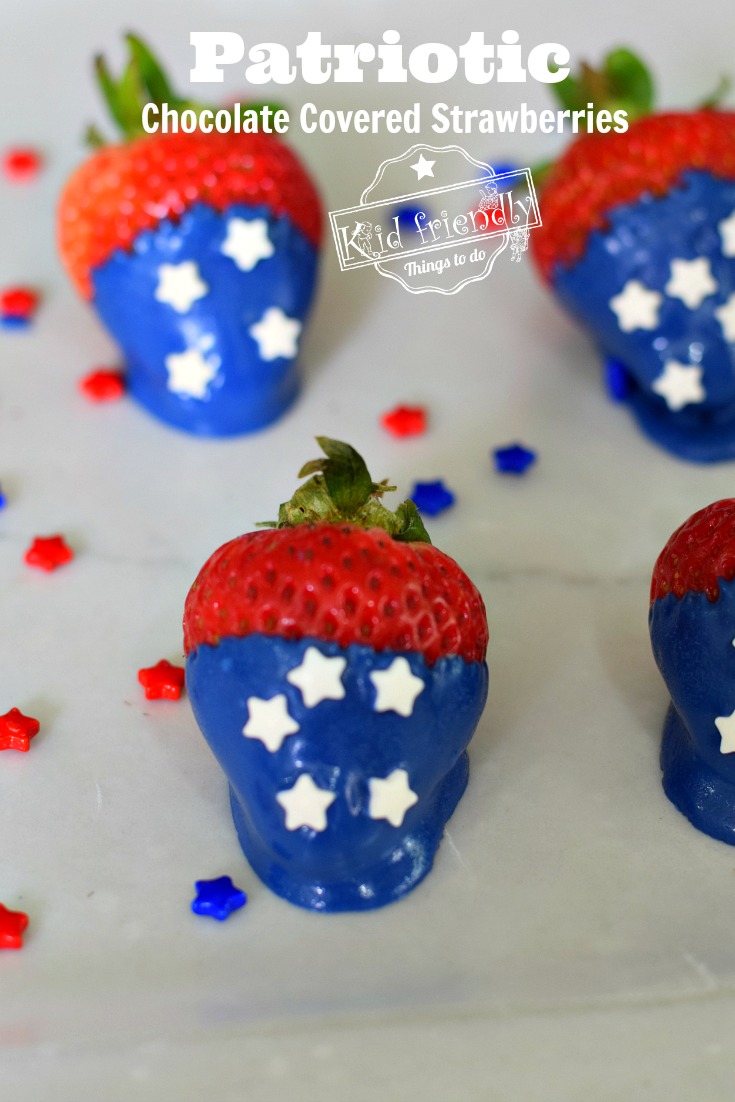 These Chocolate Covered Strawberries are so much fun and so easy to make.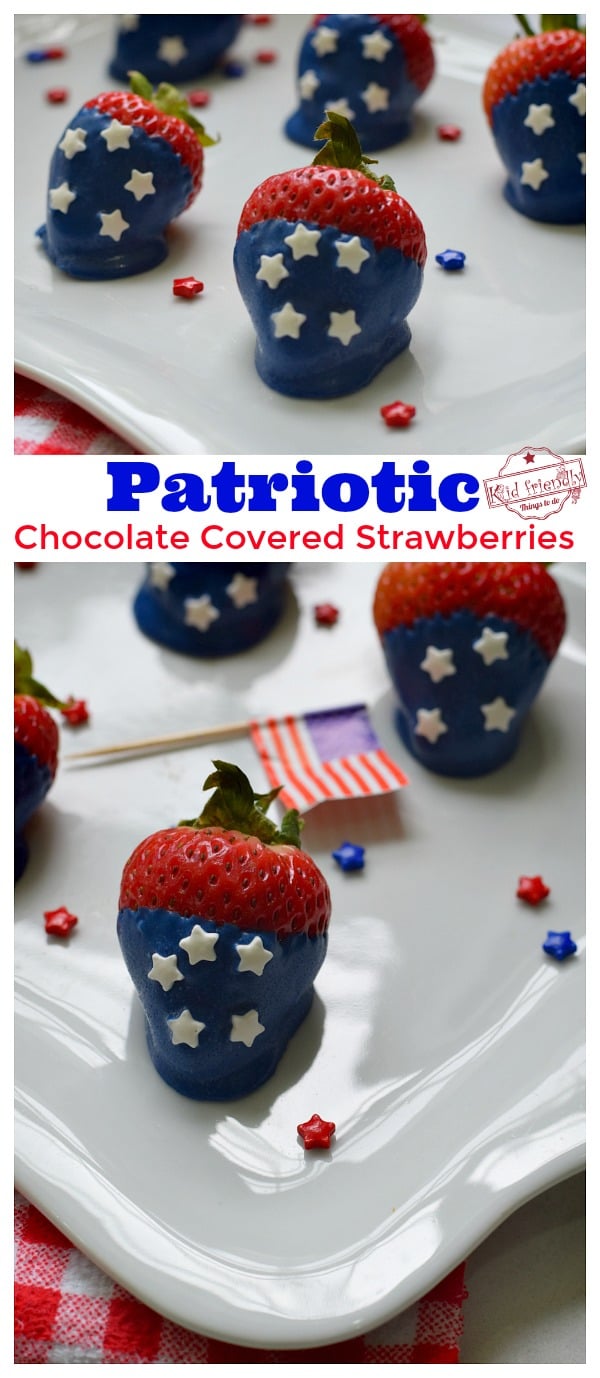 Here are my Top Amazon Picks for this Patriotic Chocolate Covered Strawberry Treat…
(affiliate links)
[box] [/box]
How do you make Chocolate Covered Strawberries…
Pick ripe, but not overly ripe strawberries
Rinse and dry the strawberries
Lay out the wax paper
Melt the chocolate melts in a small to medium sized bowl
Dip the strawberries into the melted chocolate until about half of the strawberry is submerged
Lift the strawberry and let the excess chocolate drip off of the strawberry and into the bowl of melted chocolate
Set the strawberry onto wax paper
Decorate while the strawberry quickly before the chocolate hardens
Should you keep chocolate covered strawberries in the fridge?
You can store chocolate covered strawberries in the refrigerator, but you will run the risk of the colored chocolate turning a chalky color. Instead, store the strawberries, covered and in a cool place like the basement or garage. It's really best to make the strawberries the day of serving them.
How can you avoid Chocolate Covered Strawberries from sweating?
The best way to avoid chocolate covered strawberries from sweating is to serve them within the day of preparing them. The longer that you store the strawberries, the longer you'll run the risk of the strawberries sweating. You can line the bottom of your storage container with a paper towel to help soak up any extra moisture.
Here is the printable for this Fourth of July Food Idea…
Print
Patriotic Chocolate Covered Strawberries | Kid Friendly Things To Do
This is a fun and easy patriotic food idea that the kids can help decorate.
2

dozen Strawberries, rinsed and dried

1

bag of royal Blue (or dark blue) candy melts
Glass (microwave proof) bowl
White star sprinkles – or red, white and blue sprinkles of your choice
wax paper
Instructions
Melt the chocolate melts
*I like to place the melts into a microwave-proof glass bowl and microwave it for 1 minute, stir and place back into the microwave for 30 more seconds
Dip strawberries halfway into the chocolate – leaving some red of the strawberry exposed
Hold the strawberry over the bowl, allowing the excess chocolate to drip off
Place the strawberries on wax paper
While the chocolate is still warm, quickly add white stars to the blue chocolate that is on the strawberry
*I liked to make a circle pattern with the stars, but you can also just sprinkle the stars onto the chocolate. Another alternative would be to use white dot sprinkles or red, white and blue sprinkles in place of stars
Repeat with the rest of your strawberries
Store in a covered container at room temperature with wax paper placed directly over the strawberries for added protection to the fruit
Best if served the day of making, but you can also serve them within 24 hours of making them
Notes
If you can't find white stars, you can use any red, white and blue sprinkles that you have available to you