Make any meal a party with these Easy Twice Baked Potatoes that you can make ahead. They add a twist to the traditional holiday or family meal mashed potatoes. Make them ahead and load them up with your favorite Loaded Potato Toppings. Come on in and I'll share the recipe…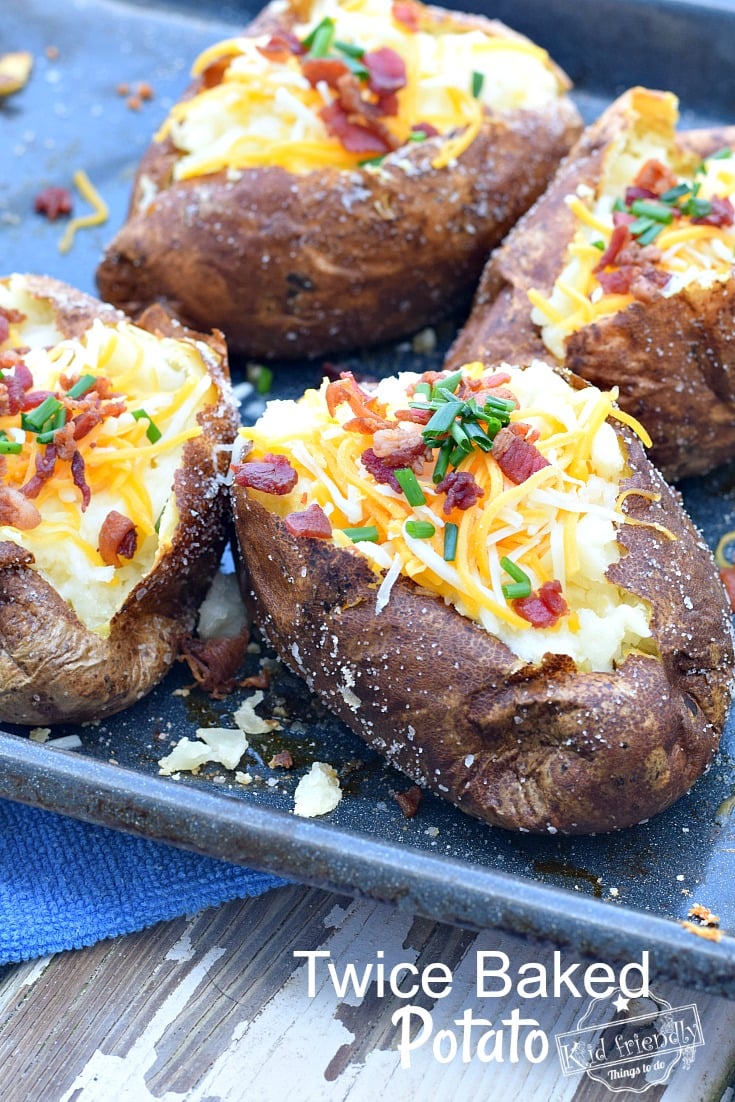 These twice baked potatoes would be a great alternative to mashed potatoes that sometimes turn cold while you finish preparing the rest of the meal.
Pair a twice baked potato with soup or salad for a nice light dinner.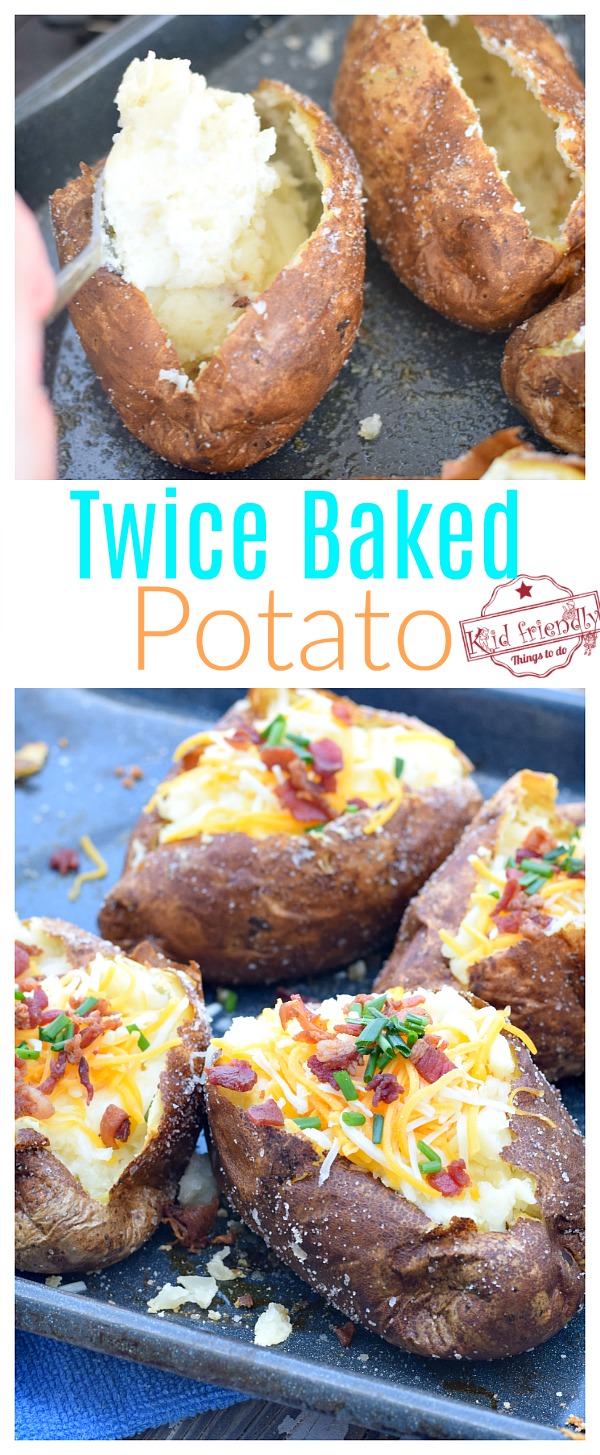 You can even load them up with all sorts of potato toppings for a hearty side dish or stand alone meal.
Here are my top Amazon Picks for these Easy Twice Baked Potatoes…
(affiliate link)
[box] [/box]
Can you make Twice Baked Potatoes Ahead of Time?
Absolutely.
Do this before the reheating step. Wrap them in foil and freeze for months. Just reheat them for about an hour, or until they are thawed and warm enough to eat. Now, that's a nice time saver. Top with your favorite toppings
Only need a few hours or a few days? Then, just after stuffing the potatoes, transfer them to your baking sheet, place clear wrap over the potatoes and place them in the refrigerator. Give yourself an additional 14 minutes of baking time per the recipe to allow the potatoes to warm through. (45 min. total)
What Goes with Twice Baked Potatoes?
Soup and salad are great ideas for pairing with your Twice Baked Potatoes
How Long are Leftover Twice Baked Potatoes Good For?
Up to five days in the refrigerator. Up to a couple of months in the freezer.
Print
Delicious and Easy Twice Baked Potatoes {You Can Make Ahead} | Kid Friendly Things To Do
Author:
Prep Time:

15 min.

Cook Time:

90 min.

Total Time:

1 hour 45 min.

Yield:

4

potatoes

1

x
4

large Russet Potatoes
Olive Oil
Sea Salt

1 tsp

. of salt

1/4 tsp

. of pepper

1/2 cup

of unsalted butter

1/2 cup

of sour cream
optional toppings: bits of bacon, shredded cheese, chives
additional topping ideas…chili, salsa, more sour cream, steamed broccoli
Instructions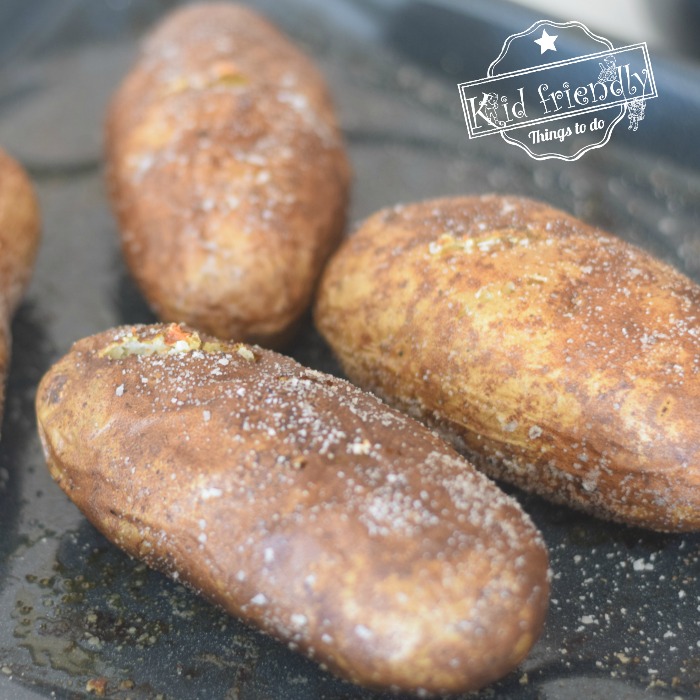 Rub each washed potato with olive oil – put some oil on a paper towel to rub on the potato
Sprinkle the potato with sea salt
Bake the potatoes, on a baking sheet, in a 400-degree oven for an hour or more – until the potatoes are soft when squeezed or pricked with a fork
Lower the oven temp to 300 degrees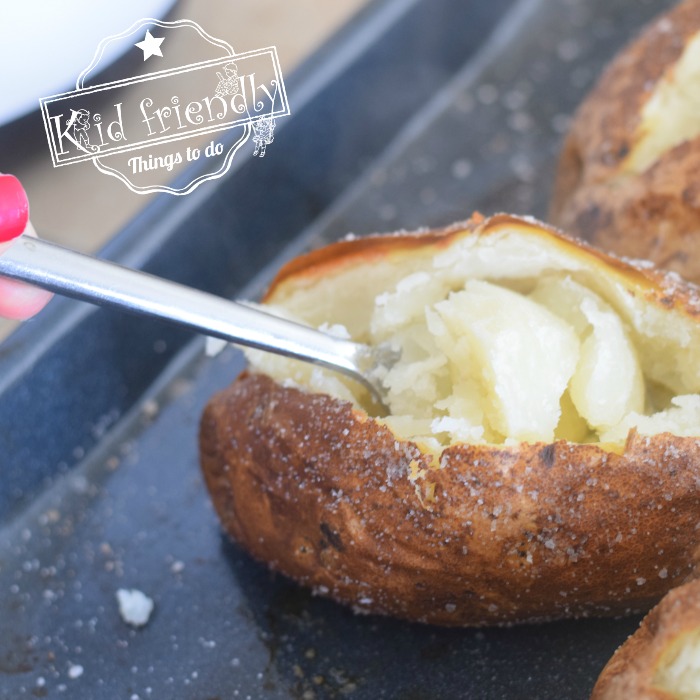 You can wait for the potatoes to cool or use oven mitts while you slice an opening in each potato
Scoop out the baked potato, leaving the shell intact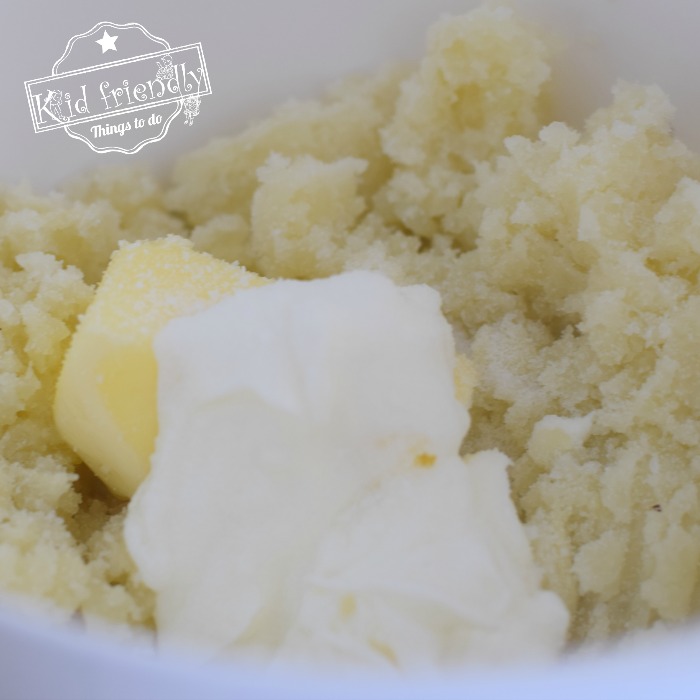 Transfer the scooped out potato to a large bowl for mashing
Add salt, pepper, butter, and sour cream
Mash the potato mixture until it is smooth
optional – For Ultimate Loaded potatoes – add 1 cup of shredded cheddar cheese and about 1/2 cup of crumbled bacon to the potato mixture before stuffing the potato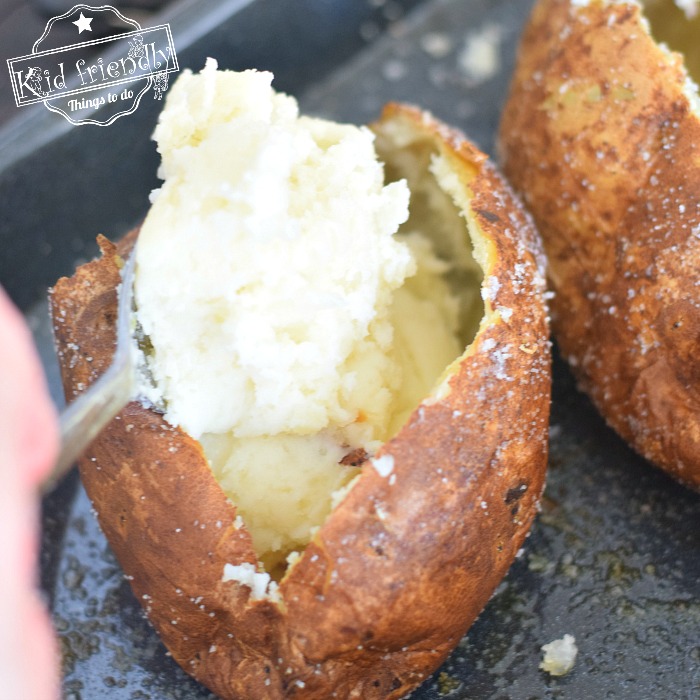 Fill the shell of the potatoes with the mashed potatoes
Pop the potatoes back into the oven to warm through – about 30 minutes
Loading your potato…
Immediately after taking out of the oven, while the potatoes are still hot…
add toppings like shredded cheese, bacon bits, and chives
or, set bowls of toppings out for your guests to load their own with their favorite toppings
Making these Twice Baked Potatoes Ahead…
If you want to, you can stuff the potatoes, and freeze them for a later date. Do this before the reheating step. Wrap them in foil and freeze for months. Just reheat them for about an hour, or until they are thawed and warm enough to eat. Now, that's a nice time saver
Only need a few hours or a few days? Then, just after stuffing the potatoes, transfer them to your baking sheet, place clear wrap over the potatoes and place them in the refrigerator. Give yourself an additional 14 minutes of baking time per the recipe to allow the potatoes to warm through. (45 min. total)
~Melissa – KidFriendlyThingsToDo.com