I'm thinking these cookies are named Washboard Cookies because they look just like an old Washboard! I tried these cookies out after seeing them on Taste of Home!  I thought they looked like fun! Not only are they a fun resemblance to an old-fashioned washboard; they're also delicious and moist. There wasn't a cookie left on the platter! Here's the recipe for you to enjoy: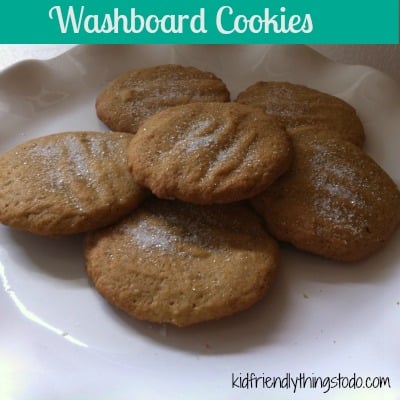 Old Fashioned Ginger Cookies
Are you looking for old fashioned recipes? They really are the best. Check out some of my other posts…
You'll Need:
1/2 cup of butter softened
1 cup of packed dark brown sugar
1 egg
1 Tbsp. orange juice
1 t of vanilla extract
1&3/4 cup of all-purpose flour
2 tsp. of ground ginger
1/2 tsp. of baking soda
granulated sugar
Now, on to the cookies:
Preheat the oven to 350 degrees
In a large bowl or mixer, cream the butter and brown sugar together
Add the egg, orange juice, and vanilla
In a separate bowl, mix the flour, ginger, and baking soda
Add to the wet ingredients and mix until moist
Drop by spoonfuls onto greased baking sheets, or (my favorite) – sheets covered with parchment paper
Get yourself a fork and a bowl of water
Dip the fork into the water, and press it onto the cookie dough. This is what makes the washboard effect
Sprinkle the cookies with granulated sugar
Bake for 15-20 minutes
Cool, Top with a little more sugar (why not?!),  & Enjoy!
~Melissa – KidFriendlyThingsToDo.com – recipes, crafts, fun foods, party ideas, and fun things to do with your family!
Adapted from Taste of Home .com – link above