A Slushy Milk Shake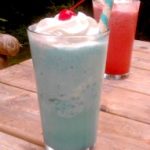 Posted by Melissa in Drinks, Drinks, Easy Family Recipes, Fun Food Crafts, Milk Shake, Patriotic - American | 0 comments
This is what you get when you mix TWO FUN DRINKS TOGETHER! A SLUSHY-MILK-SHAKE! Yum!

With so many colors available in the Jell-O department, you could make these any color you want. Since, fourth of July is just around the corner, I made these fun drinks red and blue. But, it would be fun to have one of every color at a kid's birthday party! Here's What You'll Need To Make Your Own:
1 package of gelatin mix – any flavor/color you like! – small package
1 cup of cold water
2 cups of crushed ice
1/2 cup of marshmallow creme/fluff  – this helps add a creaminess and binds everything together
1 cup of vanilla ice cream
Chilled glasses/cups
Now, here's what you'll need to do:
In a small bowl, mix the cold water and gelatin together until gelatin is mostly dissolved
Using a blender chop the ice until it looks like snow!
Add the gelatin mixture and blend, then add the ice-cream
and finally, add the fluff
The little white specks are little pieces of fluff!
I recommend adding a scoop of ice-cream to the top for an extra yumminess factor!
 or Pour into prepared cups, top with whipped cream, and cherry – if desired! Enjoy!
~Melissa – KidFriendlyThingsToDo.Com

This recipe was adapted from "Smoothies and Summer Drinks"