Layered Quesadillas – Kid Friendly Things To Do .com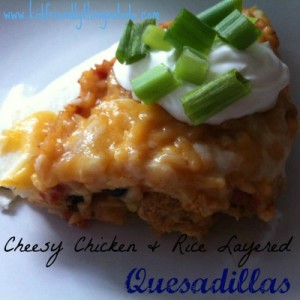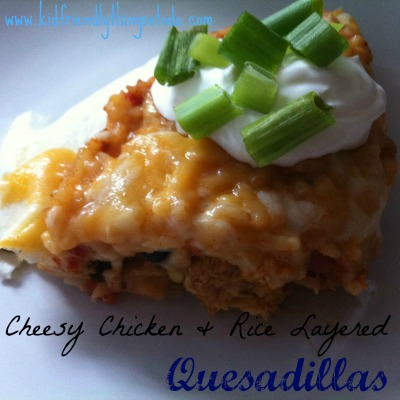 Posted by Melissa in Easy Family Recipes, Main Dish, Poultry | 0 comments
Oh yum! This layered cheesy, Quesadilla Dinner is a delicious Mexican Dinner! It's simple, and bountiful. You can feed a crowd, or just some growing teenage boys! Some of the best meals come from my avoidance of the grocery store! That's when I throw everything in. I go ALL IN! 😉 Here's what I came up with last week.
You'll Need:
3 Chicken Breasts – cooked and cubed
1 can of black beans – rinsed and drained
1 can of sweet corn – drained
1 package of taco seasoning
2/3 cups of water
Zatarain's Spanish Rice – Cooked according to package directions (You'll need a can of diced tomatoes for the rice recipe)
9 flour tortillas – burrito size
8 oz. of shredded cheese – Monterey Jack Blend
Now: Serves 12
Preheat the oven to 375 degrees
In a medium sauce pan over medium/high heat – combine the cooked chicken, beans, corn, seasoning, and water
Stir occasionally until the water has cooked down, about 5 minutes
Grease a baking sheet with cooking spray
Place 3 flour tortillas down separately
Place heaping spoonfuls of rice onto each tortilla – spread the rice out
Sprinkle cheese generously over the rice
Add another flour tortilla over the rice and cheese
Add a heaping spoonful of the chicken and beans mixture – Spread that around
Add a flour tortilla to the top of the chicken and bean mixture
Place another heaping spoonful of Spanish Rice onto those tortillas
Sprinkle generously with cheese
Pop into the oven for about 10 minutes, or until the middle is warm, and the cheese is nicely melted
Serving Suggestion: Serve with sour cream, salsa, and taco toppings – like olives, tomatoes, and lettuce!
~Melissa – KidFriendlyThingsToDo.com – recipes, party ideas, fun foods, crafts, DIY home & garden, and fun things to do with the whole family!