Halloween Cookie Decorating Ideas – A Kid Friendly Thing To Do!
Posted by Melissa in Arts & Crafts, Candy Idea, Cookies, Dessert, Fun Food Crafts, Game Ideas, Halloween, Halloween, Halloween, Halloween Recipes, Holiday Fun Foods, Hotel Transylvania Ideas | 0 comments
The kids and I pulled out the big candy stash  to see what we could do to make some monsterly cookies. Truthfully, I didn't bake any of these from scratch. We had a lot of fun getting creative in the kitchen with some store bought cookies, and cookie dough!
The kids love the BIG candy stash! I've hidden it well, so my candies don't disappear inbetween decorating fun, so the kids always enjoy the opportunity to dig into the heaps of candies!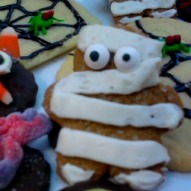 I've seen these gingerbread mummies on just about every magazine cover, this fall, and I've been itching to make some, but I could never find the time to make gingerbread cookies! Then,  I saw the gingerbread cookie bag I bought for tea parties! Yes! Problem solved.
Pepperidge Farms Makes A Gingerbread Boy Cookie – Phew!
I used a Rose Tip on your pastry bag
I filled it with White Frosting
Then, I just started criss crossing the gingerbread boy in a diaganol stripe
I left a big gap around the eye section so I could add the candy eyeballs
I used frosting to glue the eyeballs in place! I love these guys!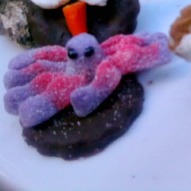 For the Scary Octopus – I think it could also pass as a spider!
I found gummy octopus in the candy aisle at Walmart
I used the Keebler Grasshopper Cookie as my base
I placed the octopus on top, and dotted on some black eyes with a black gel squeeze tube from the baking aisle of my grocery store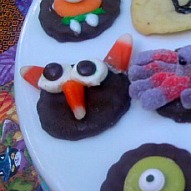 For the Owl
I used Keebler Grasshopper Cookies (Keebler's Version of a thin mint) as my base
I used mini marshmallows for the eye base, and pressed them down to make them a little wider
I added mini M&Ms for the center of the eye
I added candy corn ears with frosting as glue – I really wish I would have used Chocolate frosting here. The white frosting looks messy. Use chocolate frosting, incase you need to re-position the ears.
I took a candy corn, and cut the end off for the nose, then I placed the candy corn between the eyes – ON IT"S SIDE – again glue with frosting.
Pop him -or- her in the freezer to set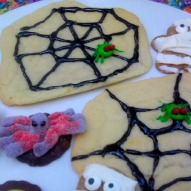 For the spider web and spider
I used store bought sugar cookie dough, and made a really large cookie – in a not so perfect round shape
I made a web out of black gel from a squeeze bottle found in the baking aisle of the grocery store
To make a web: Make an 8 point snow flake pattern – just make an X then start criss crossing it until you get 8 points – then connect the X's in 2 sections – one outside and one inside section.
Add a green M&M for the spider – Make legs from green frosting – you can find this in a squeeze bottle, as well. and add red eyes with little red sprinkles by using frosting as glue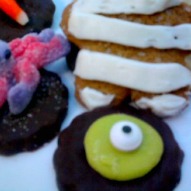 For the eyeball
I again, used a Keebler grasshopper as my base
I added a neon green Wilton Chocolate Melt for the middle section – Find these at Michael's Craft Store – other colors are at Walmart
Use a candy eyeball for top (also found at Michael's and Walmart)
Glue all this together with frosting
~Melissa – KidFriendlyThingsToDo.Com – A site providing kid friendly recipes, crafts, and ideas for the whole family!