A Beautiful Angel Made From A Paper Plate – A Kid Friendly Craft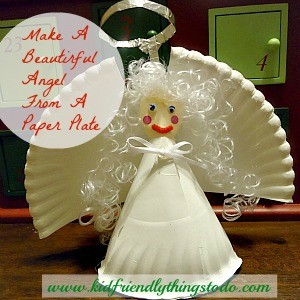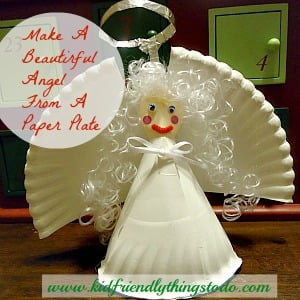 Posted by Melissa in Anytime, Arts & Crafts, Christmas, Christmas, Craft, Craft, Game Ideas | 0 comments
This sweet and simple angel craft is a great one to keep the little ones busy while you busy yourself with holiday preparations! You'll love the outcome – an adorable angel made with love! Here's What You'll Need:
A sturdy white paper plate – one with ruffles on the edges
Aluminum foil – 2 folded up strips – about 2 inches long and 1/4 in. wide
Google eyes
Little pink dots (2) – you can use a hole puncher to punch out dots from pink paper
Skin colored paper for the face
Doll hair – you can substitute yarn or raffia if you can't find doll hair
Red or Pink 1/2 piece of chenille strip or pipe cleaner for the mouth
Hot Glue – 0r – strong tacky glue (Fabri-Tac is a nice tacky glue that dries quickly)
Scotch tape
Now, On To The Angel!:
Cut the plate in half
Use one of the halves as the skirt for the angel – create a cone shape and hot glue to seal
Cut the other half of your plate in half again – this makes the wings for your angel
Cut a face out of skin colored paper, and let the kids decorate the face with your supplies of google eyes, pink dots, pipe cleaner, and optional markers
Add hair to the face and glue to secure
Assemble the angel like the picture shows, and a bow made out of optional ribbon to the neck of the angel
Use one aluminum strip to make a halo for the angel by shaping it into a circle and attach the other strip for a stem to connect to the back of the angel
That's It! Merry Christmas!
~Melissa – KidFriendlyThingsToDo.Com