Chili's Copycat Salsa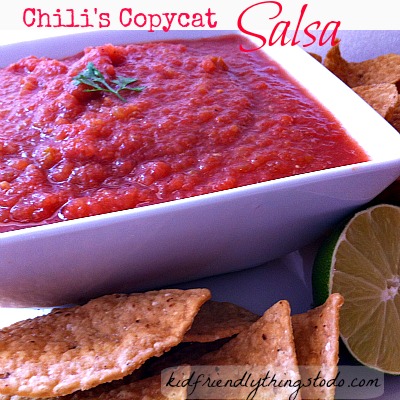 Posted by Melissa in Appetizers, Easy Family Recipes, Snack Time | 0 comments
Truthfully…if I suggest heading to Chili's for a lunch with the family; I am thinking of this salsa! The never ending chips and salsa, always make a couple of rounds to our table! Mmm…Good!
I've been waiting for my dad's garden tomatoes to ripen to make this copycat Chili's salsa, but all of that waiting has been in vain! When I found the copycat Chili's salsa recipe here; I also found absolutely NO fresh ingredients! You'd think I would look up a recipe before I assume I already know the ingredients! Now…I need a recipe for the thin, and salty tortilla chips they serve. – Here's a simple and delicious salsa recipe that definitely compares to Chili's real deal!: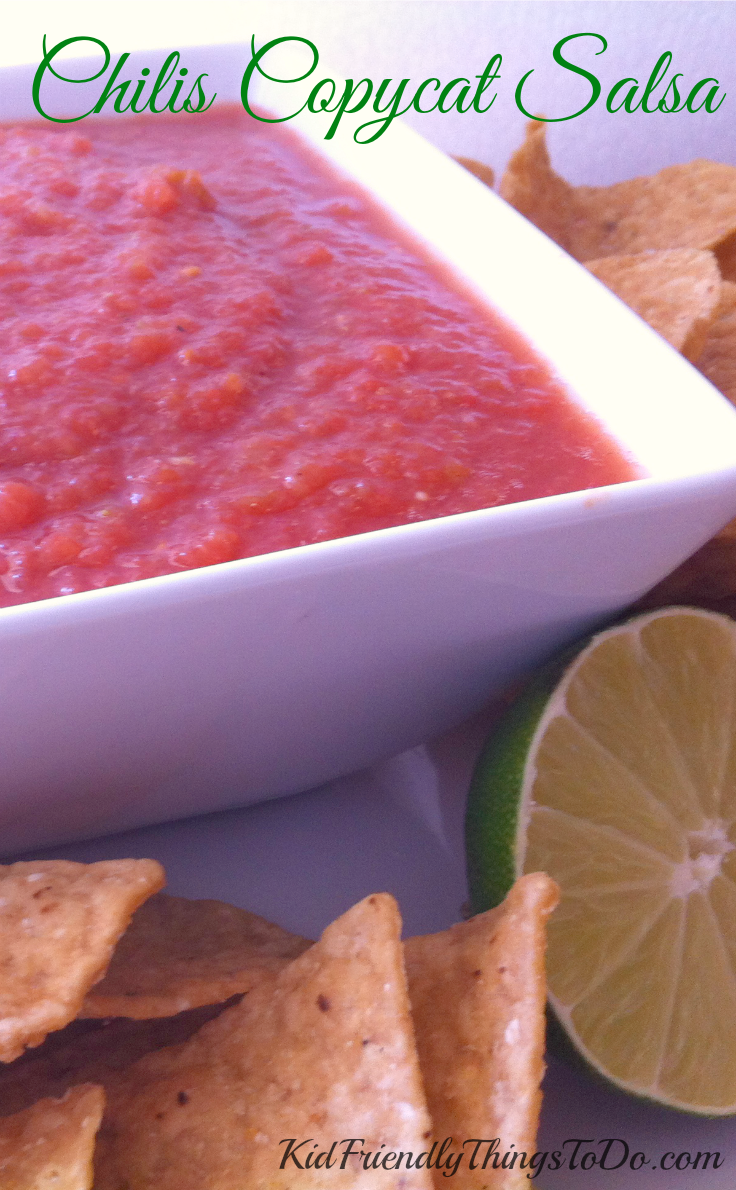 You'll Need:
(2) 4 oz. cans of green chiles
(2) 14 oz. cans of diced tomatoes – 1 drained of juices
1/4 sweet white onion – vidallia
3/4 tsp. garlic salt
3/4 tsp. cumin
3/4 tsp. sugar
1/2 tsp. salt
1/4 tsp. garlic powder
1/2 fresh squeezed lime (ok, 1 fresh ingredient, but I added that!) – or, 2 tsp. of lime juice
Now, on to the salsa!
Grab a food processor, and throw the onion, and chiles into it. Grind that up for a few seconds
Then add the rest of your ingredients
Blend for a few more seconds! That's it! Serve with salty restaurant style chips
Enjoy!
Chili's Copycat Salsa Recipe
2015-12-27 21:17:23
Ingredients
(2) 4 oz. cans of green chiles
(2) 14 oz. cans of diced tomatoes - 1 drained of juices
1/4 sweet white onion - vidallia
3/4 t garlic salt
3/4 tsp. cumin
3/4 tsp. sugar
1/2 tsp. salt
1/4 tsp. garlic powder
1/2 fresh squeezed lime, or 2 tsp. of lime juice
Instructions
Grab a food processor, and throw the onion, and chiles into it.
Grind that up for a few seconds
Then add the rest of your ingredients
Blend for a few more seconds!
That's it! Serve with salty restaurant style chips
Kid Friendly Things to Do.com - Family Recipes, Crafts, Fun Food Crafts, and Game Ideas https://kidfriendlythingstodo.com/
~Melissa – KidFriendlyThingsToDo.com