CopyCat Outback Steakhouse Ranch Dressing – Kid Friendly Things To Do .com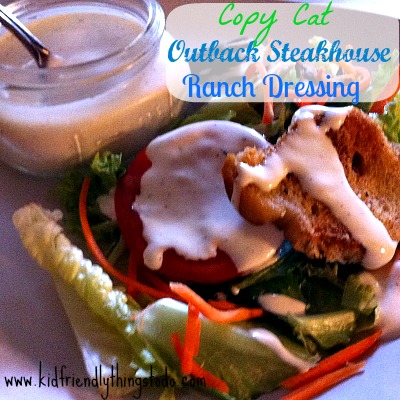 Posted by Melissa in Easy Family Recipes, Sauces, Soups & Salads | 0 comments
Back when my hubby, and I had lots of time to eat out, Outback Steakhouse was high on our list of places to go! My favorite food at Outback was the house salad with ranch dressing! So, last week, when I decided to make "fried pickles" (yep, fried pickles!), and needed some ranch dip, I went on a hunt for a CopyCat Outback Ranch Dressing Recipe! I found a few sites that have similar recipes.  Tod Wilbur's Top Secret Recipes is the one I went with.  I checked out the reviews, and listened to their advice. I made a couple of changes to Tod's recipe. This is what I came up with:
You'll Need:
1&1/2 t of Hidden Valley Ranch Dressing Mix – Tod says to only use the Buttermilk packet. I only had the plain 'ole Ranch. I went with what I had! If you have the buttermilk version, that's even better!
1 c of mayonnaise
1/2 c of buttermilk
1/4 t of course ground black pepper
1/8 t of cayenne pepper
1/8 t of garlic powder
Now,:
Just combing all of the above ingredients!
Mix well, cover, and place into the refrigerator for at least 30 minutes
Take out, and serve over a Copycat Outback Salad –  salad greens (Ice burg lettuce, and Romaine), chopped red onion, chopped cucumbers, garlic croutons and shredded Colby Jack cheese!
~Melissa – KidFriendlyThingsToDo.com