Cheesecake Factory Burrito Grande Copycat Recipe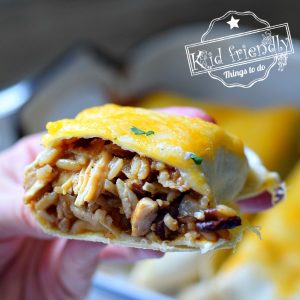 Posted by Melissa in Easy Family Recipes, Main Dish, Poultry | 0 comments
I put this Copycat Burrito Grande together after eating the yummy Burrito Grande at the Cheesecake Factory. It's pretty darn close to the real thing, and it's so dang tasty! This is my homemade version of the Cheesecake Factory Burrito Grande. I hope you like it! Enjoy!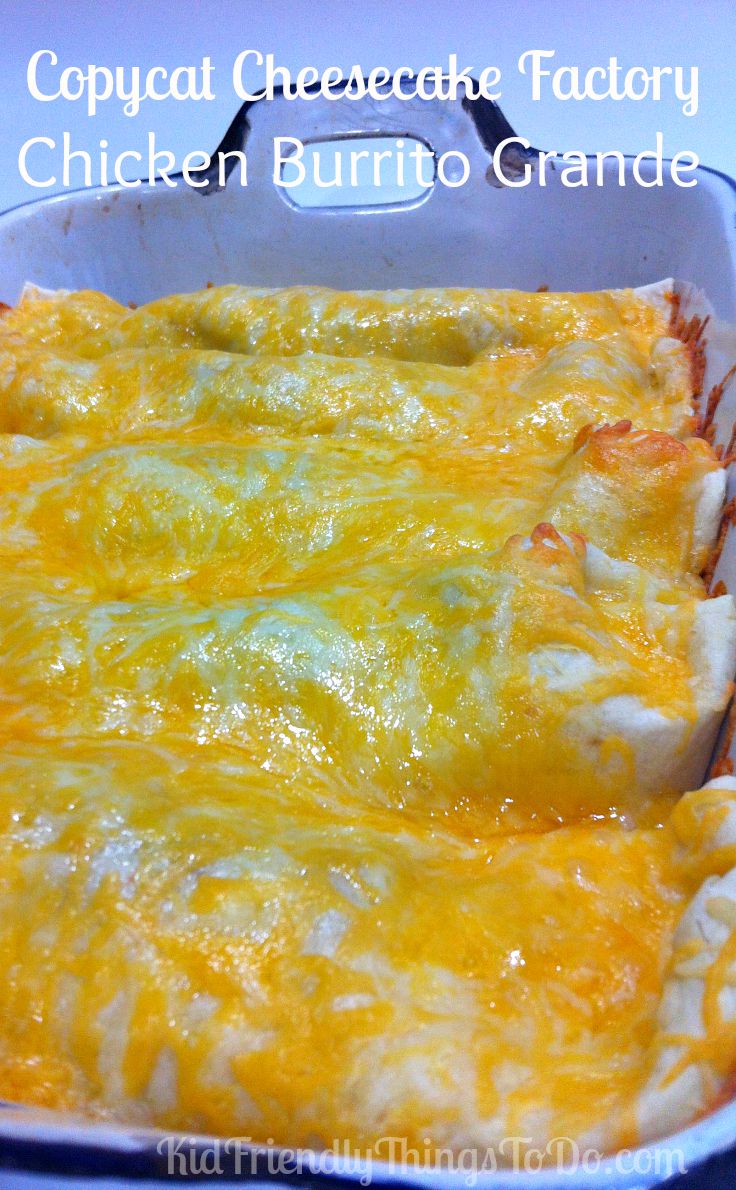 This post is killin' me! Oh, that cheese!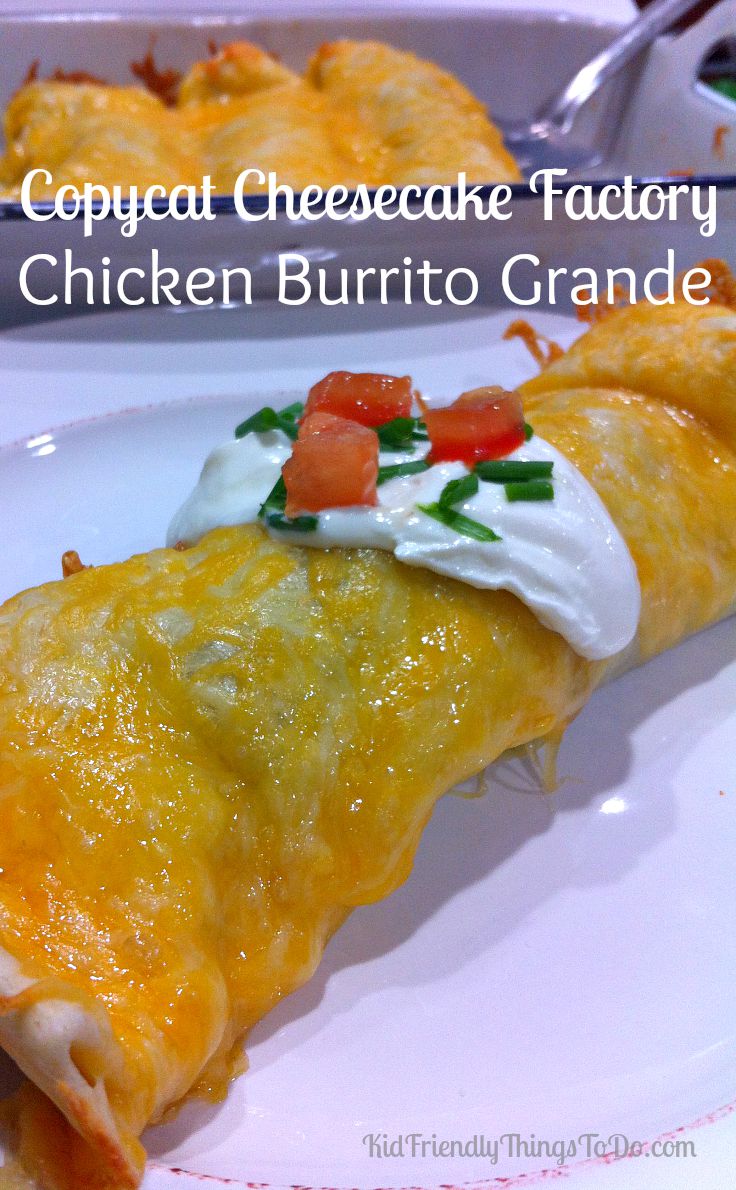 And, then there's the sour cream on top! Don't forget all of the fixins too! Grab yourself some avacodo (I had none the night I made this), and make some easy bean salsa to go with this! OooWee!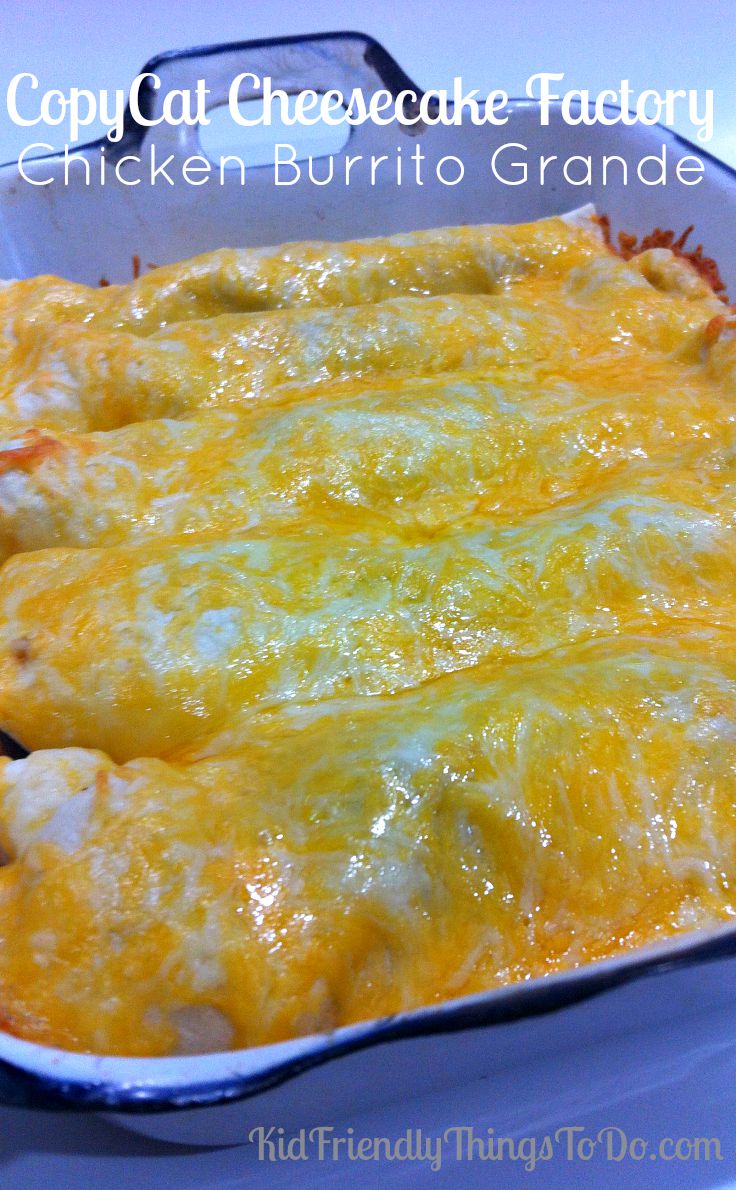 Wait no longer! Here's the recipe for y'all!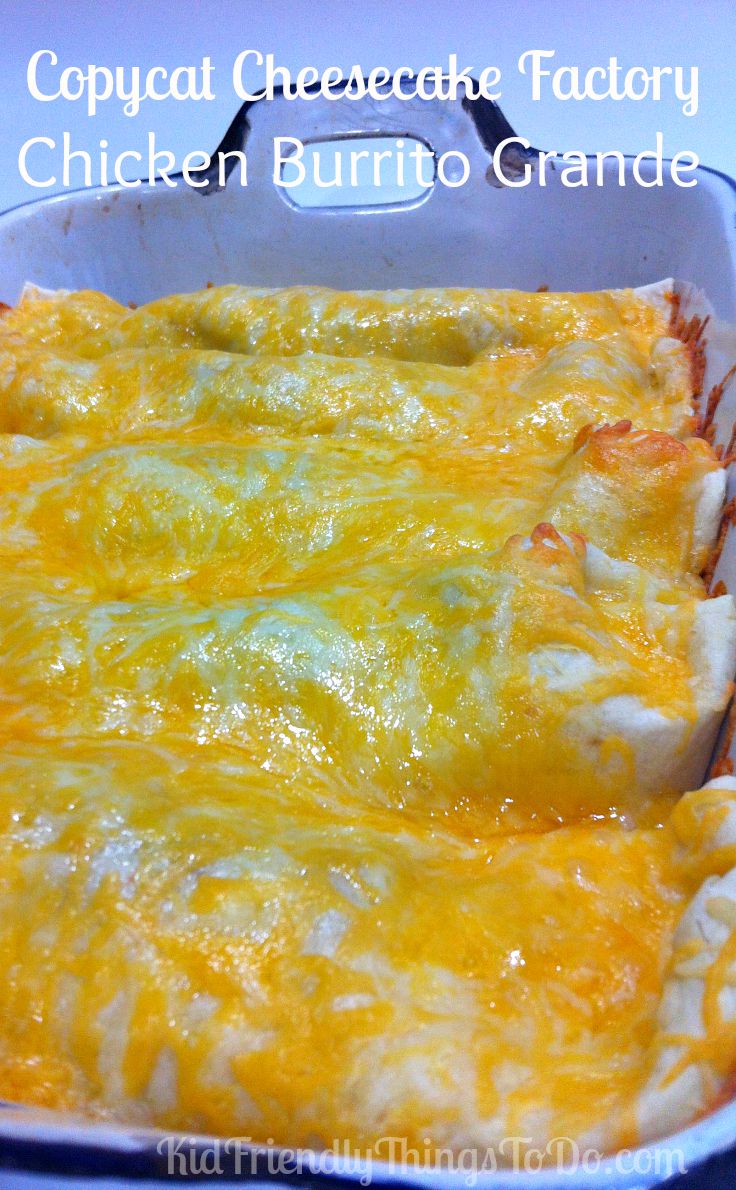 CopyCat Cheesecake Factory Burrito Grande
2015-08-20 11:19:01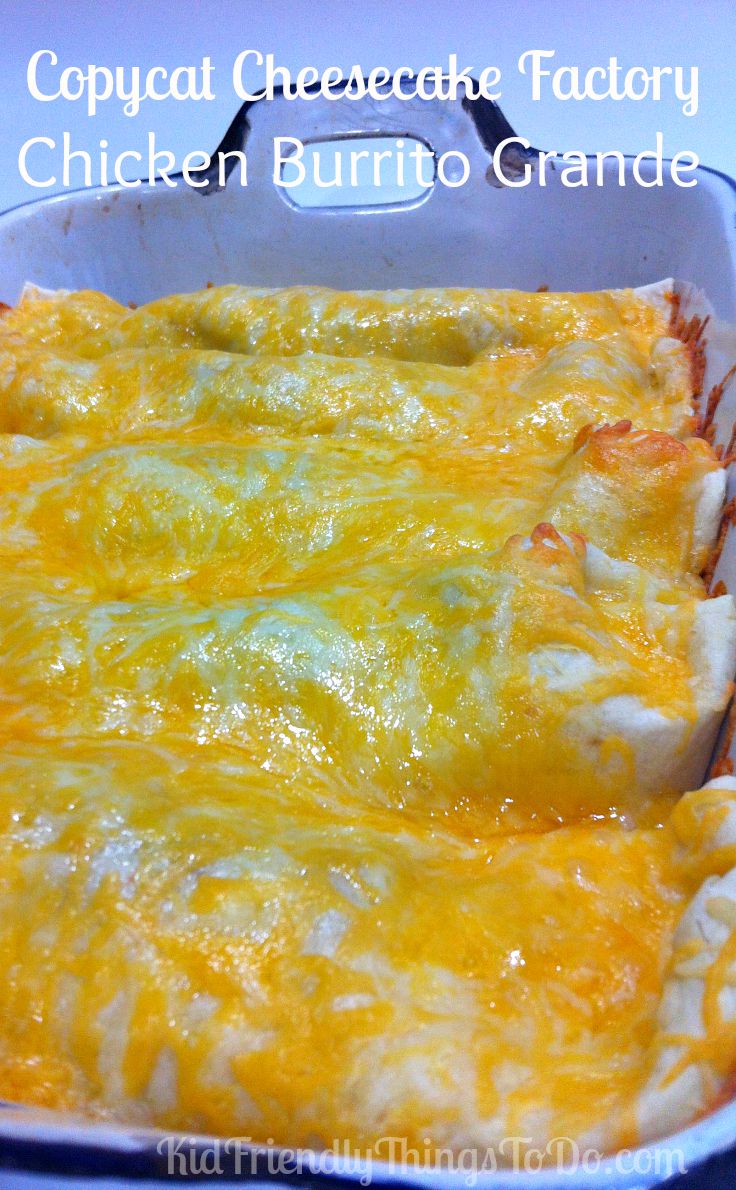 Delicious Chicken, Rice, and Bean Burritos smothered in cheese!
Ingredients
3-4 Chicken Breasts
Marinade
1 Tbsp. McCormick Montreal Steak Seasoning Mix
2 Tbsp. red wine vinegar
2 Tbsp. water
1 Tbsp. Oil
End of Marinade Ingredients
1 large white Onion - Sliced or chopped
1 T olive oil
Zatarin's Black Bean Rice Mix - Cooked per package instructions
8-10 Burrito Size tortillas
8 oz. of Mexican Blend Shredded Cheese
Fresh Cilantro - chopped
Suggested Extras
Sour Cream
Chives
Avocados chopped
Tomatoes chopped
Bean Salsa
Instructions
Mix the seasoning mix, vinegar, water, and oil in a shallow dish
Add the chicken breasts, cover and refrigerate for 30 minutes, or longer, if you can (turning halfway through)
Preheat oven to 350 degrees
Grill or cook the chicken breasts in 1 Tbsp. of olive oil until cooked through
Chop the chicken into bite sized pieces
In a large skillet over med-high heat, add olive oil, and saute onions until they are tender and translucent
Add the chicken breastes & prepared rice mixture
Cook until heated through
Spoon Mixture evenly into Tortillas, and roll tortilla Place rolled burritos into casserole dish
Cover burritos heavily with shredded cheese Bake for about 20 minutes or until burritos are heated through and cheese is melted & gooey!
Sprinkle cilanto on top of burritos
Serve with bean salsa, any left over rice, avacodos and sour cream. Enjoy!
Kid Friendly Things to Do.com - Family Recipes, Crafts, Fun Food Crafts, and Game Ideas https://kidfriendlythingstodo.com/
Here is some equipment you might need or even want for this tasty recipe!
Thanks for stopping in. I'll see you real soon!
~Melissa – KidFriendlyThingsToDo.com