A Kool-Aid Slushie is a fun way to cool down on hot summer days. They are easy to make and so delicious. Just grab yourself a bag of ice and some yummy Kool-Aid flavor packets for this fun summer treat. Come on in and I'll share this simple Kool-Aid Slushie Recipe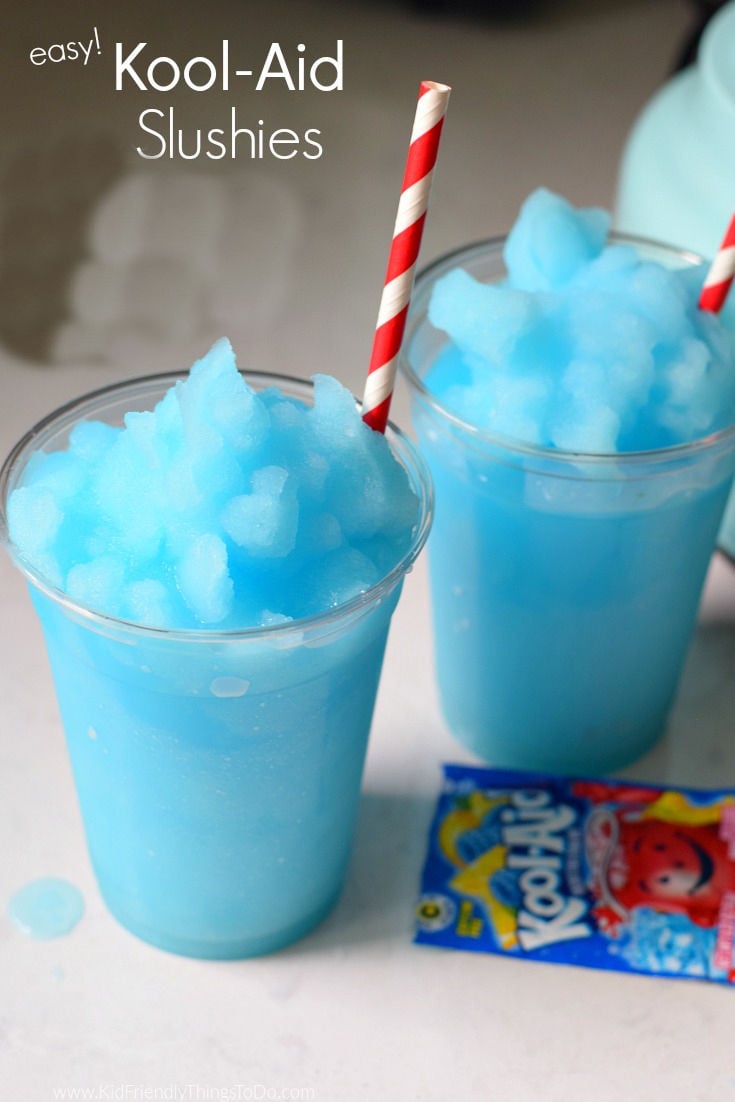 Homemade Slushie Recipe
I couldn't believe how much fun these were to make. We always enjoy summer drinks and homemade slushies are at the top of our list of summer drinks. The more fun, the better. Besides this delicious drink, my recipe for a Shirley Temple Drink is always a big hit that you might like to try. If you like making fun drinks with or for the kids, you might like my Vanilla & Chocolate Chip Cookie Milkshake Recipe or myTropical Smoothie Recipe. 
What I love about this recipe
Slushies are the ultimate refreshing summer drink and always bring back nostalgia or create new memories to share and enjoy
This slushie recipe only has 4 ingredients
It's simple to change the flavor and customize for everyone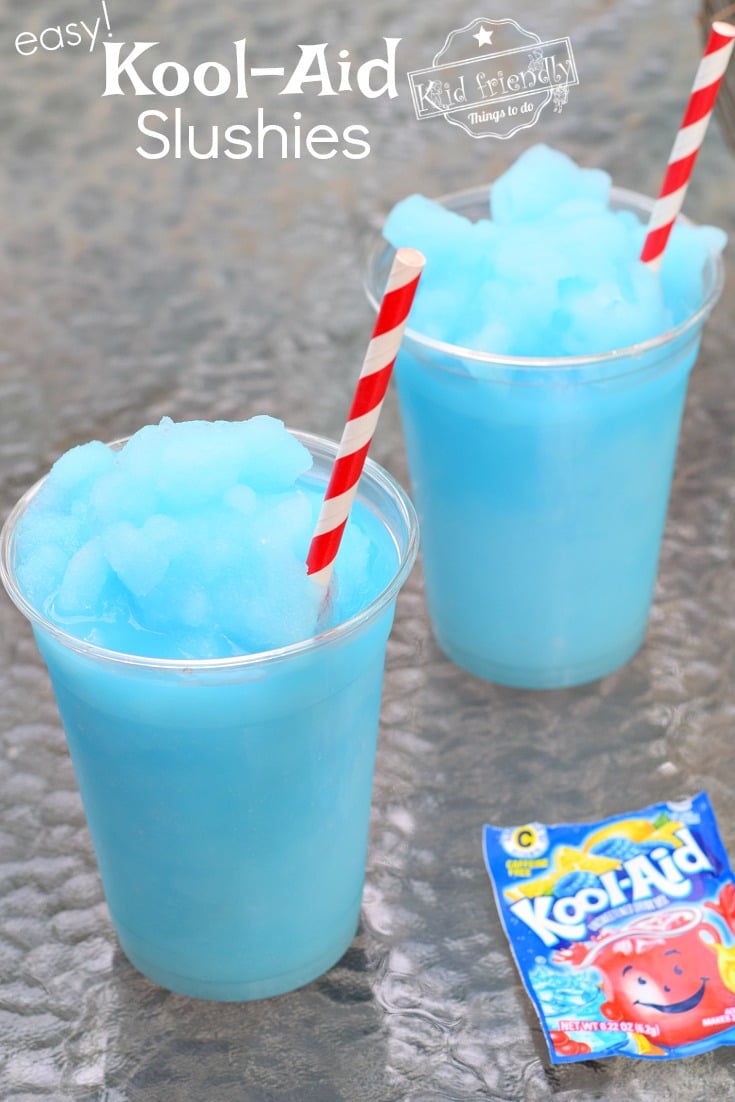 Picking out a Flavor Packet for your Homemade Slushie
I had bought several different flavors of Kool-Aid for a fun day of slushies.
Out of all of the flavor packets, blue was the most requested. They didn't care which flavor, but they wanted it blue.
Go figure. Luckily there are a lot of blue choices in the Kool-Aid section and they are very inexpensive.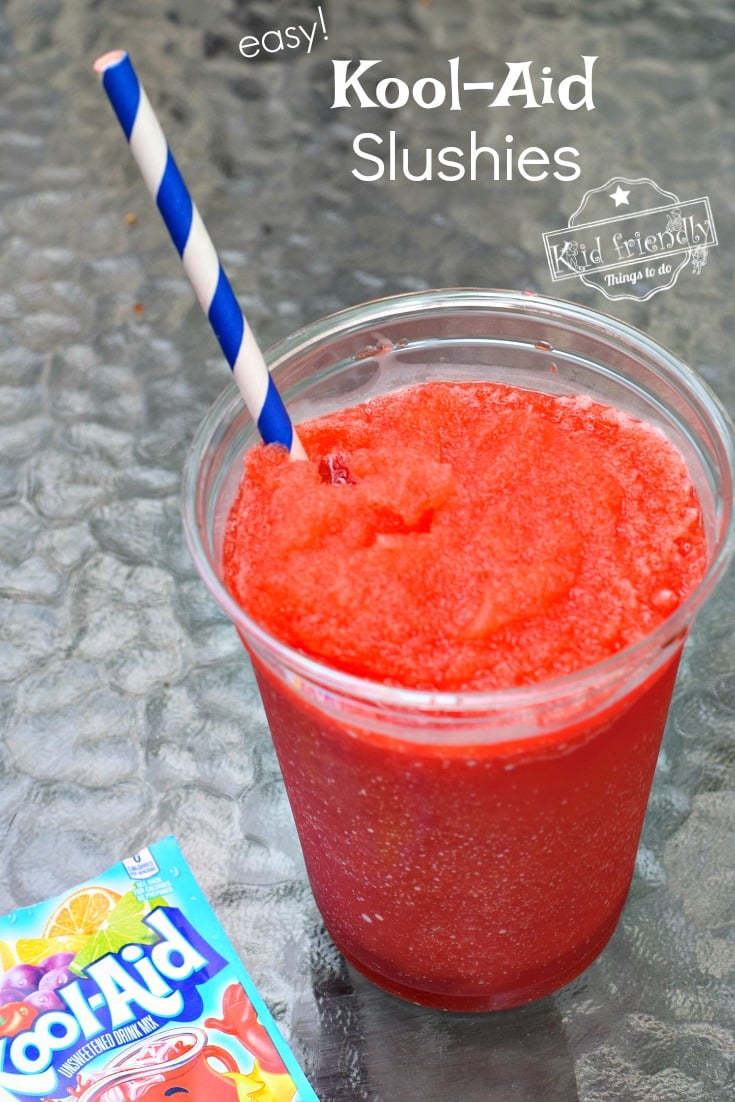 What Flavor Kool-Aid Packet Should I Use for this recipe?
There are so many flavors of Kool-Aid Mixes available. Some include…Strawberry Kiwi, Grape, Orange, Mixed Berry, Blue Raspberry Lemonade, Mango, Cherry, and so many more
How do you make Frozen Kool-Aid?
Mix water, ice, a kool-aid flavor packet, and sugar in a blender and blend until smooth
What are the Most Popular Kool-Aid Slushie Flavors?
Blue Raspberry is the most requested slushie from kids
What is the difference between a Slurpee and a Slushie?
A Slurpee is a brand name for a sweetened ice drink. A slushie is a term that a lot of people use to refer to sweetened iced drinks.
How do you make a Slushie?
Pour liquid, sweetener, and ice into a blender and blend well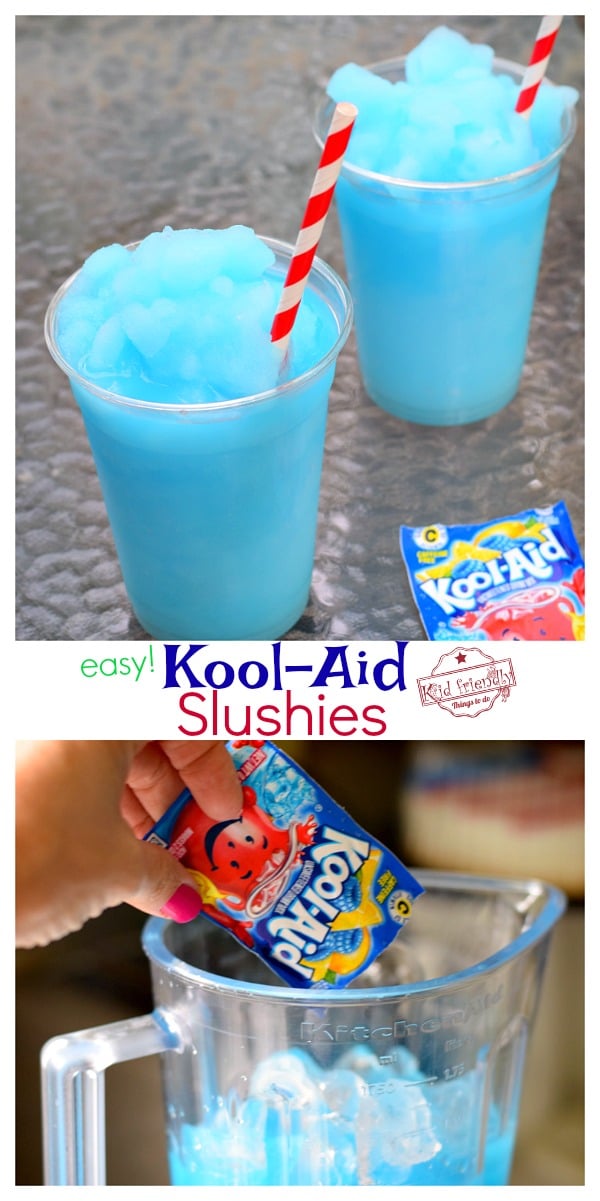 Tips and Tricks for Making Slushies at Home
If you would like more Slushy then you can double or triple the recipe, but be warned – it might not all fit into your blender. You may have to make the slushies in batches
This recipe makes 2 (16 oz.) servings, so you should be able to squeeze out 4 (8 oz.) servings
The blender you use does not have to be any certain brand. As long as it will crush ice, you should be good to go
You can use club soda instead of water, but we actually prefer water
Are you ready to make this fun Kool-Aid Slushie? Let's make sure you have everything you'll need
Ingredients:
water – it should be cold water. You don't want your ice to melt and end up with a melted and warm slush
Kool-Aid drink packet (any flavor) – As I said before, any flavor will do but the most requested "color" from my kids is always blue
Ice – This recipe uses a lot of ice. I always just grab a bag of ice from the grocery store or the gas station. But, did you know you can get bags of ice from the McDonald's Drive-through? Someone recently told me that. I haven't tried it yet, but I thought I'd share that information
sugar – granulated sugar for this recipe
How do you make Kool-Aid Slushies or Make Slushies at Home?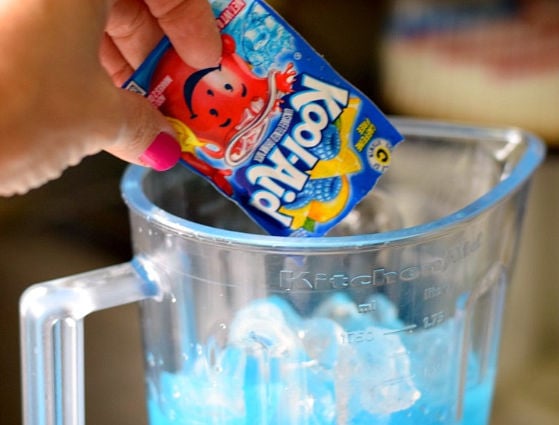 Step One
Place water, Kool-Aid powder, sugar, and ice in a blender
Step Two
Blend until smooth
Servings
This slushie makes 2 large 16 oz. servings or 4 small servings
Special Equipment for Homemade Slushiese :
For this frozen Kool-Aid drink, you'll want to have a blender on hand to blend this recipe. If you don't have a big blender then, you can always use those small portable blenders, but you'll need to divide the ingredients to fit them in. I just recently bought a Ninja Blender (the bottom of the line) at Target. I'll include an Amazon link to the one that I use.
The type of Blender for making a Slushie
contains affiliate links to Amazon…
You'll want a blender that can really crush through ice. We use a Ninja blender that is pretty simple, but there are Ninja blenders that specialize in making frozen drinks like this Ninja Creami Deluxe . This blender would be a dream for my kids to have.
The important thing is that it crushes the ice
Texture
Slushies are supposed to have a frozen liquid texture. Little beads of ice help keep the liquid frozen, but you'll still have enough liquid to make it easy to drink through a straw
Storage
You'll want to drink your slushie right away. Whenever we have leftover slushies and try to store them in the freezer, the texture is never the same. A freshly made slushy is the perfect time to enjoy it
Doubling the Slushie Recipe
If you have a sizeable blender, then you can easily double the recipe. The ingredients will double, but just make sure you are not overflowing your machine to do it. You may have to just make them 2 at a time
Here's a quick video to show you how to make these yummy Summer Drinks…
More Cold Summer Drinks
Or, you might love this copy-cat Sonic refreshing drink – Sonic Copycat Cherry Limeade
Did you make this recipe? Don't forget to leave a star rating and share how you made changes or added your own special touch to make it even better.
Recipe Card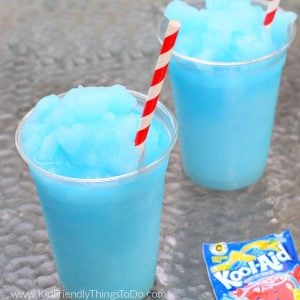 Kool-Aid Slushie Recipe
An easy summer treat to make for the kids
Ingredients
2

cups

cold water

1

Kool-Aid packet

½

cup

sugar

4

cups

ice
Instructions
Add everything to the blender

Blend until smooth
Notes
Nutrition Facts are only an estimate 
try mixing Kool-Aid flavors for a fun new flavor
Nutrition
Calories:
194
cal
Carbohydrates:
50
g
Fat:
0.2
g
Sodium:
36
mg
Potassium:
2
mg
Sugar:
50
g
Vitamin A:
0.04
IU
Vitamin C:
0.2
mg
Calcium:
22
mg
Iron:
0.03
mg