What a fun outdoor game to play for any age! This Beach Ball Relay Race is a  blast to play and so much fun to watch. Perfect for large groups, summer games, youth groups, and backyard fun. A good game for kids, teens, and adults.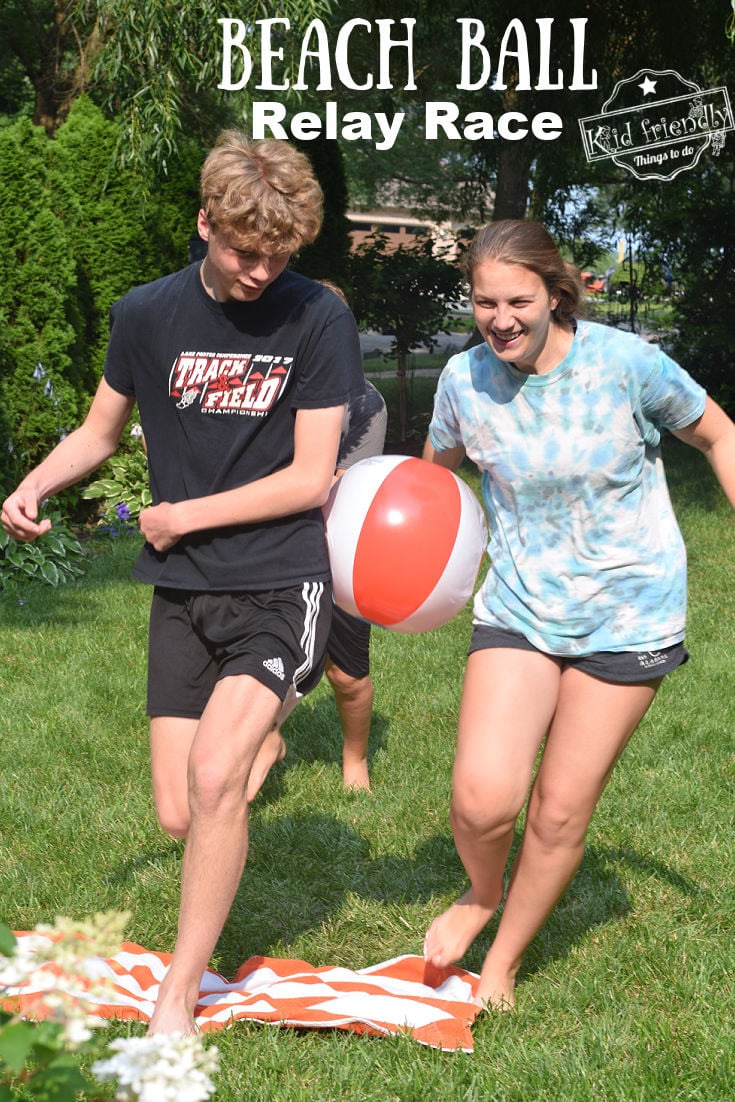 Beach Ball Relay Race Outdoor Game to Play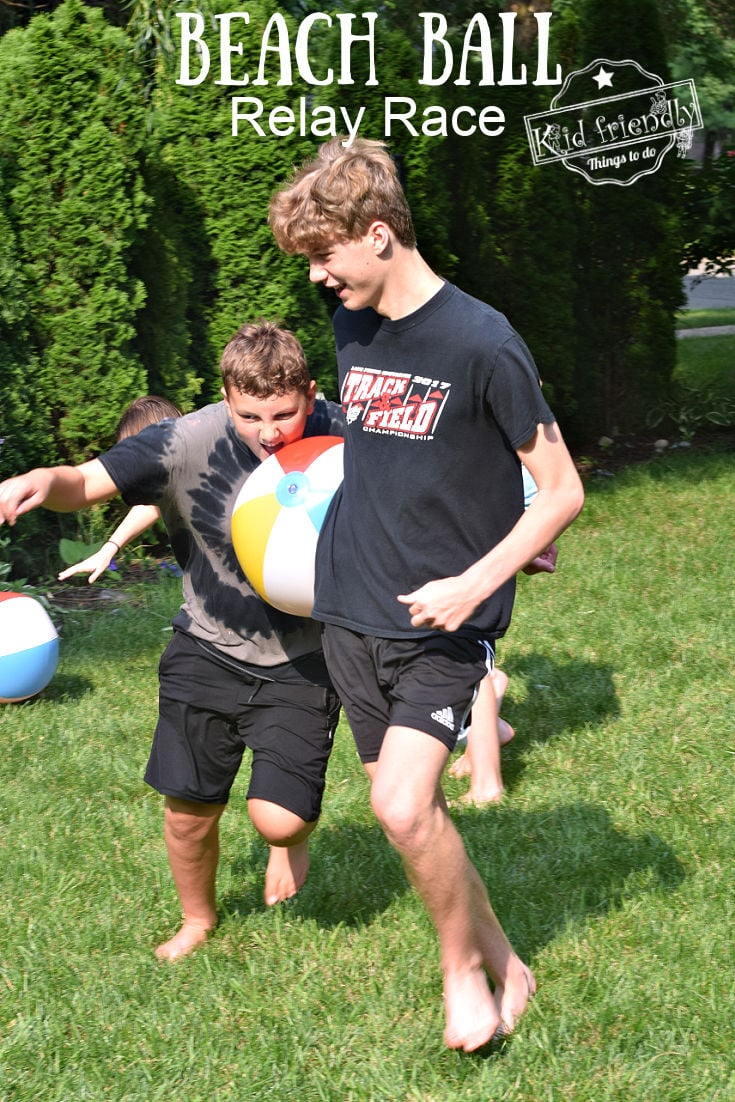 As you can see, the game gets intense. Beach balls are flying everywhere and it's a mad dash to the finish line/beach towel.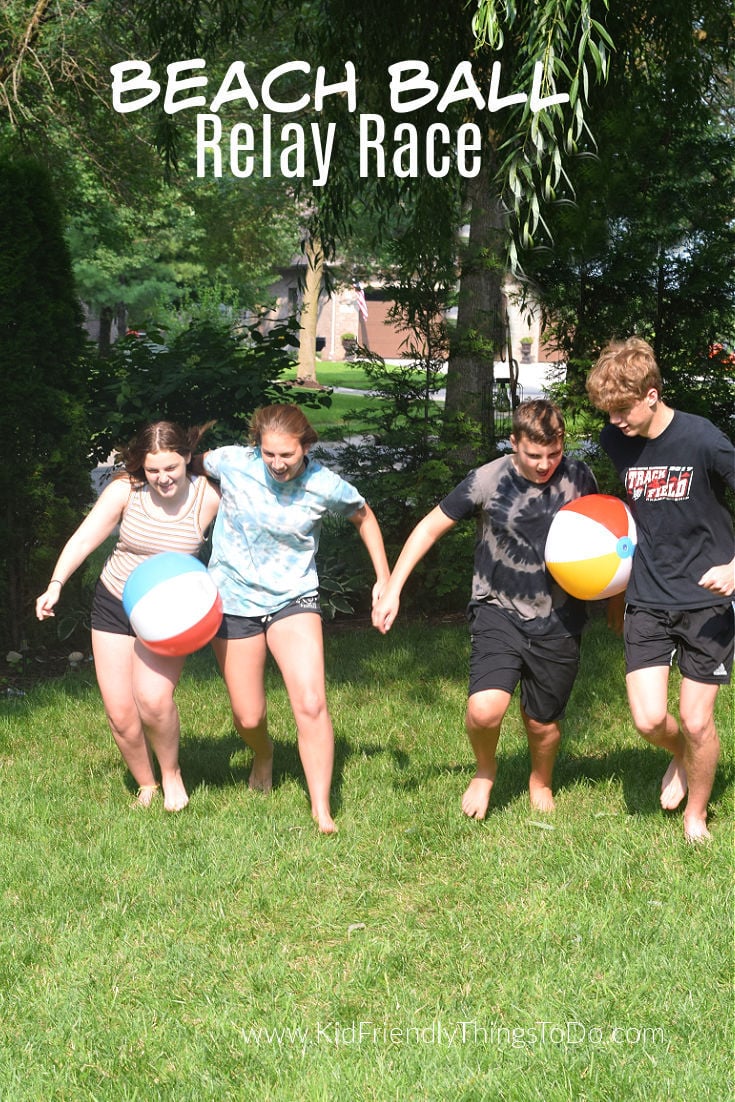 Just look at those smiles. So fun!
What Other Games Can You Play Outside?
hide and seek
volleyball
water balloon fights
hopscotch
jump rope
capture the flag
tag
red light, green light
simon says
red rover
flashlight tag
frisbee
find more games here, over 30 outdoor games to play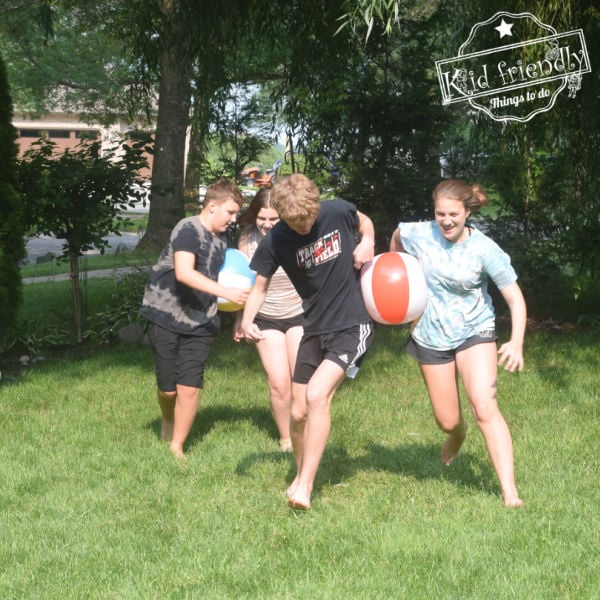 Are you looking for Backyard Games to play this summer? Check out these fun games…
Are you ready to play Beach Ball Relay Race? Let's make sure you have everything you need…
Here's What You'll Need for Beach Ball Race
beach balls – 1 per team
yard space to run
beach towels are a good marker to make a finish line, but you can use anything you have around to mark it
players – at least 4
Setting up for the game…
define a space for the start – you can mark it with a stick, a beach towel or a land mark
do the same for the finish line – this should be pretty far away from the starting line
have beach balls blown up and ready for each team
divide players into an even amount per team
How to play Beach Ball Race
Pick two players from each team to start the game. If there are more players, they should line up in pairs behind them
Players who are starting the game should line up at the starting point – facing the finish line which is a good distance away
They should place a beach ball between their bodies
Players can hold onto each other, but no hands on the ball
When you yell go, the teams of 2, should run to the finish line with the ball between them and back to the players waiting to go next
Play continues until everyone has gone
The team that finishes first is the winner
*note – if the ball drops, the pair or players must stop and replace it between them before moving forward